Glacier (氷河地帯, Glacier) is an area near Tsumisumbri Mountains which consists of many ice glaciers, as well as snowy mountains, and is surrounded by water. It is where the battles of the movies Dragon Ball Z: The World's Strongest and Dragon Ball Z: Super Android 13! take place.[1] It is also featured in the first opening of Dragon Ball Z "Cha-La Head Cha-La".
Video Game Appearances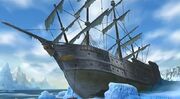 The Glacier made its debut as a battle stage in Dragon Ball Z: Super Butōden 2. It also appears in Dragon Ball Z: Supersonic Warriors 2 (called Ice Field), Dragon Ball Z: Budokai Tenkaichi 2, Dragon Ball Z: Budokai Tenkaichi 3, Dragon Ball: Raging Blast 2, Dragon Ball Z: Ultimate Tenkaichi, and Dragon Ball: Zenkai Battle Royale. In the story mode of Budokai Tenkaichi 2 and Budokai Tenkaichi 3, the glacier used as the main area of the events of Super Android 13! In Budokai Tenkaichi 3, it is also used as the main battle area for the events of The World's Strongest. In Raging Blast 2, the stage has some major changes, such as adding an old ship as well it having more snow than ice.
Gallery
References