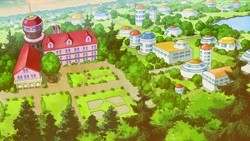 Gohan's house is a house in Satan City that is the home of Gohan and Videl after they got married, which Mr. Satan built for them. Their house is shown in Dragon Ball Z: Resurrection 'F' and in Dragon Ball Super.
Overview
In Dragon Ball Z: Resurrection 'F', Piccolo is babysitting Pan outside of the home. In Dragon Ball Super, Goten and Trunks visits Gohan's house to give Videl a wedding present. Months after the battle with the God of Destruction Beerus, Pan is born and is being taken care by Mr. Satan but Videl is supervising.
Known residents
Gohan – Moved in from Goku's house after marrying Videl.
Videl – Moved in from Satan House after marrying Gohan.
Pan
Trivia
Gallery
Ad blocker interference detected!
Wikia is a free-to-use site that makes money from advertising. We have a modified experience for viewers using ad blockers

Wikia is not accessible if you've made further modifications. Remove the custom ad blocker rule(s) and the page will load as expected.