Directory: Characters → Earthlings → Earthlings with Saiyan blood Directory: Characters → Dragon Team
Gohan: Xeno (孫悟飯:ゼノ, Son Gohan: Zeno) is a version of Gohan who is a member of the Time Patrol.
Appearance
After becoming a Time Patroller, Gohan: Xeno's appearance is Gohan with his Ultimate form, but with informal martial arts clothes almost identical to Trunks: Xeno's, most notably a black trench coat. He also wears glasses, like his counterpart's appearance in Dragon Ball Z: Resurrection 'F'.
In the Demigra Assault Saga, Gohan: Xeno's removes his coat in favor of a grey button up shirt with a black vest, maroon necktie & gloves, and traditional olive drab martial art pants with a yellow sash.
Biography
Background
Gohan: Xeno's history is very similar to his main timeline counterpart's with him being known to have experienced the Frieza and Cell Sagas, the movies Lord Slug, Dragon Ball Z: Bojack Unbound[3] and Fusion Reborn and the events of Dragon Ball GT.
Dragon Ball Heroes
Dark Empire Saga
Main article: Dark Empire Saga
Demon God Towa Saga
In the PV trailer, when Demon God Towa invades Earth with her Dark Empire Forces, Gohan: Xeno along with several other members of the Time Patrol arrive to defend their home planet. Gohan: Xeno battles again several of the soldiers until Frieza: Xeno now having merged with the One-Star Dark Dragon Ball shows up with Zarbon: Xeno and Dodoria: Xeno in tow. The Time Patrol turn their attention towards the trio and rush in to attack.
Dark Demon God Buu Saga
When Majin Buu: Xeno merges with the Three-Star Dark Dragon Ball and begins rampaging in a city, the Time Patrol including Gohan: Xeno show up in order to defeat him. As they charge in, they are all very quickly knocked aside from the far more powerful Majin Buu: Xeno. As the Dark Empire Forces arrive with Demon God Dabura leading them, Gohan: Xeno watches as his father and Vegeta: Xeno fuse and confront the invading army. Gohan: Xeno, along with the others rush in for a second attack on the empowered Majin Buu: Xeno.
Super Namekian Saga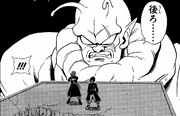 In the manga, Gohan: Xeno is first summoned after Chronoa realizes they need more help. Along with Trunks: Xeno, the pair travel back in history to Age 762. Gohan: Xeno soon notices that the current timeline version of themselves are losing Ki and must be in trouble.
They are soon confronted by Slug: Xeno who has since merged with the Six-Star Dark Dragon Ball and is in his Great Namekian form. Gohan: Xeno whistles as he once did in the past, which causes Slug: Xeno to stagger due to having a heightened sense of hearing which staggers the Namkeian. As Trunks: Xeno is about to get the Dark Dragon Ball however, Dark Demon God Buu having now absorbed Janemba: Xeno and travelled through a space portal interferes and attacks the Namekian himself.
Towa also arrives hoping to get the Dark Dragon Ball for herself and uses her magic to put Slug: Xeno through a Dark Evolution which causes him to grow to even grander heights. Slug: Xeno attacks Gohan and Trunks but the two are saved by the timely appearance of Chamel. With no other option, the two half Saiyans fuse together to become Gohanks: Xeno but even then struggle to even hurt Lord Slug due to his overwhelming size.
Mechikabura Revival Saga
In the manga, Gohan: Xeno appears with the rest of the Time Patrol in the Demon Realm just as Mechikabura is summoning Dark Shenron in order to regain his youth.
Mechikabura's subordinates, Gravy, Putine, Towa, Salsa, Mira, Dabura show up in order to hold off the Time Patrol to buy time for the Dragon to restore their masters power. As the battles between the Time Breakers and Time Patrol unfolds, Gohan: Xeno along with his brother Goten: Xeno transform into Super Saiyan where Gohan: Xeno battles against the Demon Gods until the battles come to abrupt end when they are transported back to the Time Nest.
Demigra Assault Saga
Main article: Demigra Assault Saga
Power
Manga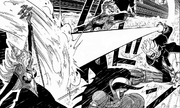 In his base form he has comparable power to Future Trunks, as they are able to fuse together. As a Super Saiyan, Gohan: Xeno is able to hold off base Mira and Demon Gods Towa and Dabura.
Game
In Dragon Ball Heroes: Ultimate Mission X base Gohan: Xeno is overwhelmed while fighting Bojack and the Galaxy Soldiers, though he notes that he once won against them when he was younger. However, fighting them again, base Gohan: Xeno manages to release the same amount of power that his younger self had, allowing him to defeat them.
Abilities
Flight - The ability to fly through the use of ki.
Ki Blast - The most basic form of energy wave.
Soaring Dragon Strike - Gohan: Xeno's super attack in Dragon Ball Heroes.
Magic Fire Ball (

魔閃烈衝壁

) - Gohan: Xeno's super attack in Dragon Ball Heroes.
Forms and transformations
Super Saiyan
Main article: Super Saiyan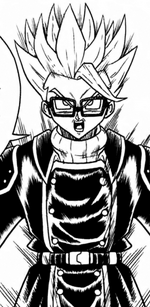 During the battle against the Time Breakers in the Demon Realm, Gohan turns into a Super Saiyan and engages the Demon Gods in battle.
Potential Unleashed
Main article: Potential Unleashed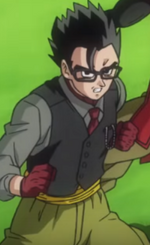 Gohan: Xeno used this state during the Demigra Assault Saga.[4]
Fusions
Gohanks: Xeno
Main article: Gohanks: Xeno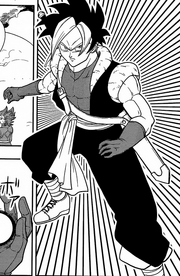 After fusing with Trunks, Gohan: Xeno is able to undergo a powerful fusion known as Gohanks: Xeno. He uses this form against Slug: Xeno after he under goes a Dark Evolution whilst in his Giant Form.
Video Game Appearances
Voice Actors
Battles
Gohan: Xeno and Future Trunks vs. Slug: Xeno (Great Namekian)
Gallery
References