"Goku's Spirit Bomb" is a soundtrack composed by Bruce Faulconer for the FUNimation dub of Dragon Ball Z. It is featured in Best of Dragon Ball Z: Volume 1.
Uses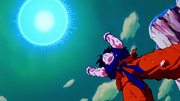 Episode 77/92, "Trump Card": when Goku charges a large Spirit Bomb against Frieza.
Episode 78/93, "Keep the Chance Alive": when Goku continues to charge his large Spirit Bomb against Frieza.
Episode 80/95, "Transformed at Last": when Goku tells Gohan and Krillin to find the Capsule Corporation spaceship and leave Namek after Piccolo took Frieza's Death Beam.
Episode 81/96, "Explosion of Anger": after Super Saiyan Goku knocks Frieza into a rockface on Namek.
Episode 85/100, "Gohan Returns": when Super Saiyan Goku fires a Kamehameha at Frieza.
Episode 85/100, "Gohan Returns": when Super Saiyan Goku emerges from underwater and tells Gohan to leave Namek.
Episode 102/117, "Krillin's Proposal": when Chi-Chi tells Maron about commitment when it comes to dating.
Episode 106/121, "Welcome Back Goku": when Future Trunks, Gohan, Krillin, Vegeta, Piccolo, Yamcha, Bulma, Tien Shinhan and Chiaotzu arrive at the scene where Goku is going to land.
Episode 107/122, "Mystery Revealed": when Goku tells Future Trunks that he searched for his feelings and that he knows Future Trunks will not hurt him with his sword.
Episode 109/124, "Z Warriors Prepare": when Bulma demands Vegeta to stop training in the gravity room while he is still recovering from his injuries.
Episode 113/128, "Double Trouble for Goku": when Piccolo warns Goku that Android 19 can absorb energy from his hands.
Episode 114/129, "Upgrade to Super Saiyan": when the Z Fighters are shocked as Goku is beaten by Android 19 on the Southern Continent.
Episode 115/130, "The Secret of Dr. Gero": when Super Saiyan Vegeta punches Android 19 in the nose.
Episode 132/147, "Time Chamber": when Goku talks to Vegeta about the Time Chamber.
Episode 165/180, "The Fight is Over": when Future Trunks tells Krillin to give Goku a Senzu Bean which Vegeta scolds for and says Goku would rather die fighting than win with one and then says that it is painfully clear that no one among the Z Fighters is stronger than him.
Episode 166/181, "Faith in a Boy": when Goku throws a Senzu Bean to Cell.
Episode 167/182, "Gohan's Plea": when Gohan talks to Cell about what he faced during his previous fights.
Episode 170/185, "Awakening": when Gohan snatches the Senzu Beans from Cell after transforming into a Super Saiyan 2, while subsequently facing a Cell Jr.
Episode 170/185, "Awakening": when Cell becomes enraged after Super Saiyan 2 Gohan kills all of the Cell Jrs.
Episode 173/188, "A Hero's Farewell": when Super Saiyan Gohan starts crying and blaming himself after Goku's sacrifice in the Cell Games.
Episode 177/192, "Goku's Decision": when the Z Fighters approach Yajirobe and Korin at Korin Tower on their way to Kami's Lookout.
Episode 177/192, "Goku's Decision": after the Z Fighters reflection on their past with Goku at the end of the episode as the Narrator says that Goku has decided to remain in Other World and Shenron says he is still waiting for the second wish (remastered version, replacing Trunks Story, Intro To Finale and Closing Music and Call Out the Dragon).
Episode 196/211, "Trunks vs. Goten": when Goten and Trunks begin their fight in the championship round of the Youth Division at the World Martial Arts Tournament.
Episode 210/225, "Eighteen Unmasks": when Android 18 prepares to end the fight against Goten and Trunks as Mighty Mask (before the MM Splits theme plays).
Episode 230/245, "Super Saiyan 3?!": when Super Saiyan 3 Goku faces Majin Buu during combat.
Episode 234/249, "Return to Other World": after Majin Buu heals Tommy's eyes.
Episode 270/285, "People of Earth Unite": when Goku charges his Super Spirit Bomb against Kid Buu.
Ad blocker interference detected!
Wikia is a free-to-use site that makes money from advertising. We have a modified experience for viewers using ad blockers

Wikia is not accessible if you've made further modifications. Remove the custom ad blocker rule(s) and the page will load as expected.