Goku vs. Cell
Talk

0
4,938pages on
this wiki
Dragon Ball Z episodes
Goku vs. Cell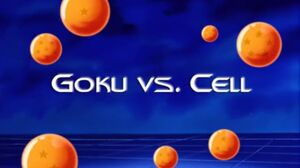 Goku vs. Cell (勝負だ悟空!! 超緊迫セルゲーム, Syobu da Goku!! Cho Kinpaku Celu Geemu) is the twelfth episode of the Cell Games Saga and the one hundred seventy-seventh overall episode in the uncut Dragon Ball Z series. The episode first aired on March 10, 1993. Its original American air date was November 29, 2000.
Summary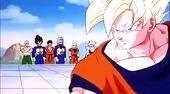 Goku steps into the ring to face Perfect Cell, smile at one another and do a little sparring. Trunks mentions Goku's control as a Super Saiyan, and Vegeta looks over to Gohan, as he knows that Gohan is also a Full-Power Super Saiyan and may have the same power as Goku. Goku and Perfect Cell exchange blows, looking huge to the other Z Fighters, but they are really tiny when it comes to the true power of the combatants.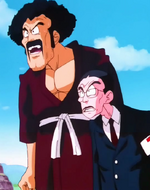 The highlight of this sparring is Goku tossing Perfect Cell into the air, powering up a Kamehameha, which Perfect Cell blocks easily. It was only a small attack, and Goku uses the distraction to warp behind Perfect Cell and give him a sharp elbow, which angers Cell who responds with a vicious pair of blows sending Goku to the tournament ring. They settle onto the ground, as Jimmy Firecracker (the ZTV reporter) and Mr. Satan (Hercule) look on, totally shocked. Then Goku and Perfect Cell agree to power up and really fight this time as the show ends.
Battles
Goku (Super Saiyan) vs. Cell (Perfect Form)
Techniques used
Gallery