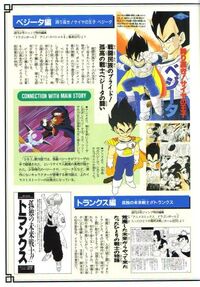 High Pride! The Saiya Prince Vegeta (誇り高き! サイヤの王子ベジータ, ''Hokoritakaki! Saiya no Ōji Bejīta'') is a side-story written by Takao Koyama and illustrated by Minoru Maeda. It is the second of a series of three side-stories based on the Dragon Ball Z anime, and it was first published on June 20, 1991, in the Jump Gold Selection 6: Dragon Ball Z Anime Special Vol. 2. The side-story examines Vegeta's childhood on Planet Vegeta up through his revival by the Namekian Dragon Balls.
See also
Ad blocker interference detected!
Wikia is a free-to-use site that makes money from advertising. We have a modified experience for viewers using ad blockers

Wikia is not accessible if you've made further modifications. Remove the custom ad blocker rule(s) and the page will load as expected.