Hell
Talk

144
4,940pages on
this wiki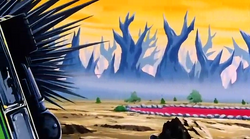 Hell (地獄, Jigoku), or HFIL (Home For Infinite Losers) in the edited version, is a place in Other World where evil characters (and sometimes, in the case of Piccolo, Goku, and Pikkon, protagonists) go after they die. Hell is never actually shown in the manga; however it is shown several times throughout the Dragon Ball Z and Dragon Ball GT anime series. Hell is also featured in the movie Dragon Ball Z: Fusion Reborn.
Overview

Hell is a mountainous area located beneath the Snake Way. Its most distinguishing feature of those shown is the "Bloody Pond" in Area 1, Sector 3, which, true to its name, is apparently composed of blood; this lake would later be semi-frozen by Janemba and used to encase Goku in Fusion Reborn. Often, the dead members of the Ginyu Force (and on one occasion, Cell) were knocked into the Bloody Pond. There is also a "Needle Mountain", a spiky mountain, shown in Fusion Reborn, and in a couple of episodes of Dragon Ball Z.
Unlike most portrayals of Hell, the of the Dragon Ball universe's Hell is not depicted as torturing its inhabitants (indeed, there is even an amusement park),[1] although villains will be beat up by Pikkon and locked in a prison cell for a while if they cause trouble. The exception is in Dragon Ball GT, when Frieza and Cell send Goku to an area below Hell, in which an old woman tortures and freezes Goku (which he escapes because he is not dead).
As hinted by Piccolo, if a soul in Hell is purified from all of its evils, it will be reincarnated. This can be seen in the case of Kid Buu who is reincarnated as the pure-hearted Uub. Furthermore, there is a purification machine, which is ran by Saike Demon, that is seen in Fusion Reborn.

In the edited Ocean dub of Dragon Ball Z, Hell is called HFIL. This acronym was stated to stand for Home For Infinite Losers, and the ogres' shirts, that originally say "HELL", were even edited to say "HFIL" (a bit of the E and the first L are digitized out). This change was made to avoid references which may have been considered inappropriate by the producers at the time (the name of the character Mr. Satan was changed to "Hercule" for similar reasons). In the Blue Water dub of Dragon Ball GT, it is referred to as Hades (as the title suggests on episode 42 of the dub). In the Nicktoons version of it, it is referred as HFIL, like the Dragon Ball Z Blue Water dub.
In the Vegeta Saga, Goku, when attempting to skip across parts of the Snake Way, almost got dragged into Hell by shadowy hands, but managed to escape.[1] Shortly thereafter, when trying to catch rest on a car, the moving car he was resting on hit a bump on Snake Way, knocking a half-conscious Goku off of the Snake Way and into Hell. However, after beating Goz and Mez, the ogres in charge of Hell in a test of strength and speed, they helped him return to King Yemma's office so he could continue on the snake way to receive King Kai's training.[2]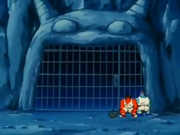 Goku returned there again with Pikkon, to take care of the enemies Cell, Frieza and the Ginyu Force, who had managed to take over Hell.[3] During the fight with Kid Buu, the ogres were seen in Hell watching it, as well as Cell, Frieza, King Cold, Recoome, Burter, Jeice, Guldo, Dr. Gero, Appule, and Babidi. The edited version excluded all these scenes (for unknown reasons) except the first scene, which took place in the episode Vegeta's Respect.
Most of the battle with Janemba in Fusion Reborn takes place in Hell, although it is heavily distorted by Janemba's barrier at the time.
In the Super Android 17 Saga, Goku travels into a large cave within Hell where, yet again, he must defeat Cell and Frieza.
Known residents

Known visitors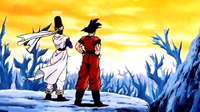 Goku – Has visited Hell a few times. Notably when he fell from Snake Way on his way to King Kai, also to fight Janemba in the Dragon Ball Z movie Fusion Reborn and when he fought Cell and Frieza in the Super 17 Saga. Visited Hell for the last time to bid Piccolo farewell before infusing himself with the dragon.
Video Games
In Dragon Ball Z: The Legacy of Goku, Goku accidentally falls to Hell, but soon leaves after collecting some spirits. He also falls from the Snake Way to Area 1, Sector 3 in Hell in Dragon Ball Z: Harukanaru Densetsu and Dragon Ball Z: Attack of the Saiyans. Hell is also briefly seen at the end of Dragon Ball GT: Transformation.
In Dragon Ball Z: Buu's Fury, Goku and Vegeta visit Hell in order to confront Janemba. Enemies encountered here are Ghosts, Zombies, Vampires, Lichs, and Green Destroyers. Janemba also uses his Illusion Smash technique to attack Goku and Vegeta while they travel through Hell in this game.
Hell is a playable battle stage in Dragon Ball Z: Taiketsu, Super Dragon Ball Z (accessed if falling through the clouds in front of Yemma's palace), Dragon Ball Z: Budokai Tenkaichi 3, Dragon Ball Z: Shin Budokai, Dragon Ball Z: Shin Budokai - Another Road, Dragon Ball: Raging Blast 2, and Dragon Ball Z: Ultimate Tenkaichi.
Gallery
References