Directory: Techniques → Offensive techniques
Icicle Claws[2] (氷の刃) is an attack used by Eis Shenron against Super Saiyan 4 Goku.
Overview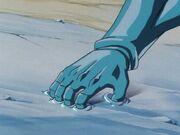 Eis Shenron creates blades of ice in his final attempt to kill Goku, and succeeded in temporarily blinding him. They are powerful enough to slice a skyscraper in half.
Appearance in Games
This was named "Icicle Claws" in the Dragon Ball Z Collectible Card Game. In Dragon Ball Heroes is the Special attack of Eis Shenron in his Super Form and was named Freezing Claw (フリージングクロー)
In Dragon Ball: Xenoverse, it appears under the name Ice Claw and is one of Eis Shenron's rush strike Super Skills. It can also be obtained by the Future Warrior in DLC Parallel Quest Event: "The Shadow Dragons". It is a part of the GT Pack 2 DLC.[1]
Gallery
References