Idasa
Talk

3
4,913pages on
this wiki
Idasa is Trunks' first opponent in the junior division of the World Martial Arts Tournament. He has a brother named Ikose.
Biography
Edit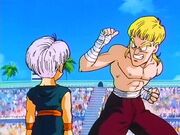 At fifteen years old, Idasa competed in the 25th World Martial Arts Tournament. He is very arrogant and first taunts Trunks with a missing punch, claiming that Trunks stood no chance at beating him. However, when in the ring, Trunks defeats Idasa with a sweep and a kick with barely any effort. When he lost to Trunks, his mother was as angry at him as she was at Trunks and punished him for losing.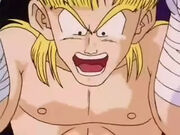 Later, during the Majin Buu Saga, when Babidi was searching for Trunks, Goten, and Piccolo, Idasa told his mother where Trunks lived, and she immediately told Babidi. He was presumably killed by Super Buu's Human Extinction Attack and resurrected soon after by the Dragon Balls.
Video game appearance
Edit
While most likely a coincidence, he resembles the Johnny Lawrence character from the Karate Kid series of films; which appropriately enough features martial arts tournaments.