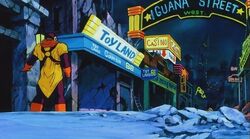 Iguana Street is a street filled with many stores in the movie Dragon Ball Z: Lord Slug. It is the place where the majority of Goku and Lord Slug's battle took place, and during the battle, much of the street gets destroyed.
Toy Land is one of the various stores seen on Iguana Street, when Lord Slug smashes Goku through the window of this store. A McDonald's fast food restaurant and a Tobiuo truck are also seen on this street.
Trivia
This street is named after Iguana, a genus of lizard native to tropical regions.
Gallery
Ad blocker interference detected!
Wikia is a free-to-use site that makes money from advertising. We have a modified experience for viewers using ad blockers

Wikia is not accessible if you've made further modifications. Remove the custom ad blocker rule(s) and the page will load as expected.