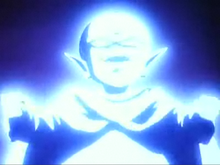 Immortality (不死, Fushi), also called Eternal Life (永遠の命, Eien no Inochi), is the concept of living in physical or spiritual form for an infinite length of time without dying. A subset of this is Eternal Youth, which allows for exemption from natural death such as from old age or disease. There are several outside methods in the series which can be sought after in order to become immortal, the most common being to make such a wish to the Eternal Dragon, Shenron, using the seven Dragon Balls.
Methods of gaining immortality
Collecting the seven Dragon Balls (or, alternatively, the Namekian Dragon Balls, Super Dragon Balls, or Black Star Dragon Balls) and having a wish for immortality granted by an Eternal Dragon. This method also extend immortality even to unnatural taking of life, such as murder or suicide.
Drinking the immortality elixir alluded to in the Dragon Ball manga.[1]
Having Master Roshi's pet, the Immortal Phoenix, bestow immortality. This method is rendered unavailable some time before the beginning of Dragon Ball, due to the irony that the Immortal Phoenix died from being fed "tainted bird seed".[2]
The grueling process of converting a human into a cyborg entails them freedom from a death by natural causes.[3]
Wishing for Eternal Youth, which halts aging and thus leaves them unable to die of natural causes. However, they can still be killed during battle, with suicide, and/or being caught in a lethal event.
Eating Paradise Grass obtained from the Forest of Terror allows the consumer to gain many additional years of life. Roshi uses this method to retain his eternal life.
Characters who are immortal
Characters who have pursued immortality
King Piccolo: Wished for Eternal Youth to regain his physical prime. Was ultimately killed by Goku via the latter plowing through his chest.
Vegeta: The proud Saiyan warrior seeks the Dragon Balls of Earth, where he is encountered and defeated by Goku. After recovering, Vegeta searches Namek for the Dragon Balls of that planet, which he is successful in stealing from Frieza (with the exception of one he locates himself). He loses the artifacts to the Ginyu Force, before coming to gain possession of them once again with the arrival of Goku. He nearly loses the opportunity to become immortal when Krillin, Gohan and Dende summon the Eternal Dragon of Namek, Porunga, in his absence, but he realizes with enough time to track the group down and force Dende to make the wish (as Porunga requires his summoner to speak in Namek dialect when making a request). The wish ultimately fails however, when Grand Elder Guru dies, thus killing the Eternal Dragon and crippling Vegeta's conquest for immortality. After being resurrected, he gave up on immortality despite the Earth's Dragon Balls being revived.

Gogeta: In his ending in the PSP game Dragon Ball Z: Shin Budokai, Gogeta considers wishing for immortality but eventually decides that a lot of delicious food would be better. It is likely that his wanting for immortality is due to Vegeta's influence inside him, and his wanting for delicious food comes from Goku.

Nappa: A Saiyan who travels to Earth with Vegeta to seek out the Dragon Balls. Their plan ultimately fails when Goku arrives and pummels Nappa, who ends up being betrayed and killed by Vegeta.
Drawbacks
Even if one is immortal, there is one crucial flaw, which is that, even though they are immortal, they are still susceptible to being trapped in a place where they cannot escape, be it a different time era, dimension, etc. They are also susceptible when fusing with a mortal being, spiraling the fused body out of control, causing the fusion to be granted with semi-immortality, susceptible to being killed. They're also susceptible to being erased from existence by Zeno and other potential entities like him. In the case of gaining eternal youth, they also are still susceptible to the unnatural taking of life such as murder or suicide. There are examples of these such as:
Trivia
References
Ad blocker interference detected!
Wikia is a free-to-use site that makes money from advertising. We have a modified experience for viewers using ad blockers

Wikia is not accessible if you've made further modifications. Remove the custom ad blocker rule(s) and the page will load as expected.