Directory: Techniques → Supportive techniques
Irome (色目, "Amorous Glance")[3] is the name of the seduction technique used by Bulma when she tries to seduce General Blue.
Overview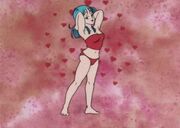 Bulma shakes her butt at General Blue in an attempt to seduce him, but it does not work on him and he is then implied to be a homosexual. A similar ability was used by the character Plamo in the one shot manga The Adventures of Tongpoo, in order to seduce an alien, although it failed, and instead got the alien to consider eating her.
Appearances in games
Bulma can use this technique to confuse enemies in the Nintendo DS games Dragon Ball: Origins and Dragon Ball: Origins 2.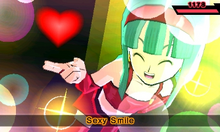 In Dragon Ball Fusions, Bulla,and her fusion, Brapan use a similar attack.
References