This article is about the
real world.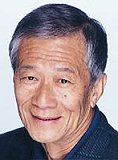 Jōji Yanami (八奈見 乗児), born Shigemitsu Shirato (白土 繁満) on August 30, 1931, in Tokyo, is a veteran voice actor. He is currently represented by Aoni Production.
Biography
Edit
Jōji Yanami is best known for the roles of the Narrator, Dr. Flappe, Dr. Brief, Mousse, King Furry, King Kai, and Babidi in the Dragon Ball franchise.
Some of his other roles include Dr. Gilmore in the 1960s Cyborg 009 anime, Gennai in the Digimon franchise, Professor Gennosuke Yumi in the Mazinger franchise, Gan Fall in One Piece, Dr. Umon in UFO Robo Grendizer, and Boyakii in the Yatterman franchise. He also voiced Splinter in the Japanese dub of the live-action Teenage Mutant Ninja Turtles film.
Jōji Yanami has also performed the end themes to various anime, including Time Bokan and Yatterman.
Ad blocker interference detected!
Wikia is a free-to-use site that makes money from advertising. We have a modified experience for viewers using ad blockers

Wikia is not accessible if you've made further modifications. Remove the custom ad blocker rule(s) and the page will load as expected.