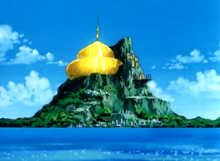 Jaguar's island is an area on Earth, located near Satan City. The island is remote, with one main city with a harbor on one side, and Mei Queen Castle on the other.
This island is seen in the movie Dragon Ball Z: Bio-Broly, where it is invaded by a dangerous Culture Fluid due to the battle against Bio-Broly causing damage to the laboratory in Lord Jaguar's castle. Goten, Trunks, and Krillin eventually stop the Culture Fluid and save the island by firing their Kamehameha to the sea, sending water on it.
Ad blocker interference detected!
Wikia is a free-to-use site that makes money from advertising. We have a modified experience for viewers using ad blockers

Wikia is not accessible if you've made further modifications. Remove the custom ad blocker rule(s) and the page will load as expected.