This article is about the
real world.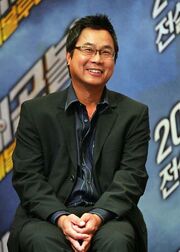 James "Jim" Wong (黃毅瑜; born on April 20, 1959) is a Cantonese-American television producer, writer, and film director. He is well known as the director of the first and third Final Destination films.
He wrote, directed, and co-produced the film adaptation of Akira Toriyama's Dragon Ball, which was released in 2009 by 20th Century Fox under the name Dragonball Evolution.
External links
Edit
Ad blocker interference detected!
Wikia is a free-to-use site that makes money from advertising. We have a modified experience for viewers using ad blockers

Wikia is not accessible if you've made further modifications. Remove the custom ad blocker rule(s) and the page will load as expected.