The Japanese sword (日本刀) is a very long and very powerful sword that can be used by Future Trunks in the video game Super Dragon Ball Z.
Overview
It is either a katana, or a similar but longer sword called a nodachi.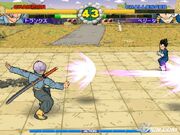 This Japanese sword can only be obtained by training the character's skill tree to the second level, in which the player can choose from the Japanese sword, the Laser Sword, or the ability to raise the action gauge.
Ad blocker interference detected!
Wikia is a free-to-use site that makes money from advertising. We have a modified experience for viewers using ad blockers

Wikia is not accessible if you've made further modifications. Remove the custom ad blocker rule(s) and the page will load as expected.