This article is about the
real world.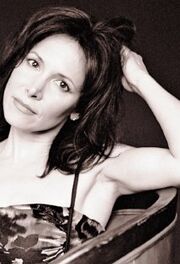 Jillian Michaels (born in Vancouver, British Columbia) is a Canadian voice actress who has done English dubs of several Japanese anime.
Biography
Her biggest roles in the Ocean Group dub of Dragon Ball Z are young Gohan from Episode 151-179 (166-194 uncut, Gohan had no dialogue in 150/165) and Goten. Additionally, she voiced young Goku in flashbacks during these episodes.
Some of her other roles include Yuko in The SoulTaker, Panda in Hamtaro, Shippo in the InuYasha franchise, Princess Pride in MegaMan NT Warrior, and Al Bowen in Project ARMS, and Ellen in Edgar & Ellen.
She is also the singing voice of Lacus Clyne in Gundam SEED and Gundam SEED Destiny.
Ad blocker interference detected!
Wikia is a free-to-use site that makes money from advertising. We have a modified experience for viewers using ad blockers

Wikia is not accessible if you've made further modifications. Remove the custom ad blocker rule(s) and the page will load as expected.