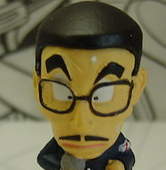 There is currently a total of 1 Jimmy Firecracker (also known as the Cell Games Announcer) collectible that has been released to date. A gallery and the attached information appends to the official release and genuine specifics in regards to the additional merchandise pertaining to each release.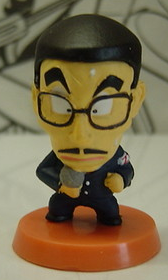 Anime Heroes Volume 3
Release date: 2008
In the large assortment of "Anime Heroes" series offered by Plex, Jimmy Firecracker the Cell Games Announcer who works for ZTV has made an appearance in volume 3 released on September 1st, 2008. Standing at approximately 40mm, the miniature figurine comes with an orange base to stand on. The head is of course sized larger than the rest of the body to better incorporate the chibi style. Firecracker's facial features depict him with a desperate and surprised exterior, right down to his frantic position, holding his microphone and sweating from anticipation, worry, and the overall stress attached to his job. His facial reaction is solid and perfected even at this miniature scale. The fearful expression of his sculpt is well depicted for this mini piece, from his unique sweating to his ZTV logo on his arm.
Ad blocker interference detected!
Wikia is a free-to-use site that makes money from advertising. We have a modified experience for viewers using ad blockers

Wikia is not accessible if you've made further modifications. Remove the custom ad blocker rule(s) and the page will load as expected.