This article is about the
real world.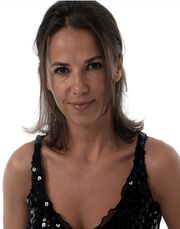 Joël Mulachs Escolano (born on February 17, 1970) is a Catalan voice actress.
Biography
She voiced Kid Gohan in Dragon Ball Z, and Kid and Teen Gohan in Dragon Ball Z Kai. She also dubbed other anime characters, like Buttercup in The Powerpuff Girls, Conan Edogawa in Detective Conan, and Velma Dinkley in the Scooby-Doo film.