This article is about the
real world.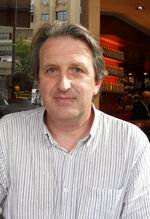 Joan Sanz (born July 26, 1959 in Olesa de Montserrat, Catalonia, Spain) is a Spanish actor, guionist and voice actor.
Biography
As a voice actor in Catalan language, he voiced Vegeta in Dragon Ball Z and Dragon Ball GT. He also worked on the Catalan dub of Dragon Ball Kai, being one more time the voice of Vegeta. He also dubbed characters in other anime series, like Nakano Kazuo in Kinnikuman or Saldeath in One Piece.
As a scriptwriter, Joan Sanz written the telefilms "Cafè&Clixé" ("Cofee&Clique"), "Orígens" ("Origins") or "Temps Afegit" ("Added Time").
Joan Sanz is also an actor. He directed, produced and starred the film "Parla'm d'en Paco" ("Tell me about Paco"). In 2012, he appeared briefly in the Catalan Telenovela "La Riera".
Also in 2012, he wrote a book titled "La sèrie de la teva vida" ("The serie of your life") with Marc Zanni (Goku's voice in Catalan dub). The book is about personal anecdotes and experiences of the Dragon Ball Catalan dub and dubbing in general.