This article is about the
real world.

Kōji Yada (矢田 耕司; April 15, 1933-May 1, 2014) was a voice actor affiliated with Aoni Production.
Biography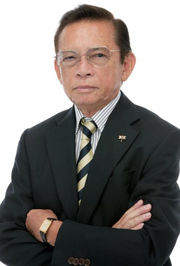 Kōji Yada was born in Tokyo on April 15, 1933. He voiced Dr. Kochin in the movie Dragon Ball Z: The World's Strongest, and Dr. Gero in all the character's appearances in the Dragon Ball franchise, including Dragon Ball Z, Dragon Ball GT, Dragon Ball Kai, and various Dragon Ball video games. Outside of the Dragon Ball franchise, Kōji Yada also voiced Chef Zeff in One Piece He passed away on May 1st, 2014, at age 81, due to chronic renal failure.
Ad blocker interference detected!
Wikia is a free-to-use site that makes money from advertising. We have a modified experience for viewers using ad blockers

Wikia is not accessible if you've made further modifications. Remove the custom ad blocker rule(s) and the page will load as expected.