This article is about the
real world.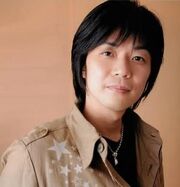 Kōji Yusa (遊佐 浩二, Yusa Kōji; born on August 12, 1968) is a voice actor born in Osaka Prefecture and raised in Kyoto Prefecture.
Kōji Yusa is married to fellow voice actress Kanako Mitsuhashi.
His other famous roles include Shadow the Hedgehog(Sonic series), Lau(Black Butler), and Gin Ichimaru(Bleach).
Ad blocker interference detected!
Wikia is a free-to-use site that makes money from advertising. We have a modified experience for viewers using ad blockers

Wikia is not accessible if you've made further modifications. Remove the custom ad blocker rule(s) and the page will load as expected.