Directory: Techniques → Offensive techniques → Physical techniques
Kaio-ken Attack (界王拳アタック) is a rush attack used by Goku while using the Kaio-ken technique.
Overview
Goku powers up to Kaio-ken x3 as he charges at the opponent and roundhouse kicks them up into the air. Then, he flies up in the air and punches the opponent away. Next, he flies up over the opponent and down behind to double kick them further up into the air. Finally, Goku flies up into the air around the opponent and hook kicks them down into the ground, inflicting a huge amount of damage.
Goku uses this attack during his first battle against Vegeta. After being dominated by Vegeta's increased speed and power even with his Kaio-ken x2, Goku decides to use his Kaio-ken x3. Goku charges up and his power soon surpasses Vegeta's, much to the Saiyan prince's shock. Activating his Kaio-ken x3, Goku rushes at Vegeta and attacks him with the Kaio-ken Attack, knocking him many meters away into a mountain.
Appearances in games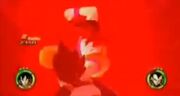 Kaio-ken Attack was named in the Budokai Tenkaichi video game series, where it is one of Goku (Early)'s Blast 2 attacks. In Budokai Tenkaichi 1 and Budokai Tenkaichi 2, the name was given to Goku's other Kaio-ken rush attack, Kaio-ken Finish; this was later fixed in Dragon Ball Z: Budokai Tenkaichi 3 and Dragon Ball Z: Tenkaichi Tag Team. The Raging Blast games and Dragon Ball Z For Kinect feature the Kaio-ken Attack and Kaio-ken Finish as separate attacks. It is one of Goku's Special Attacks in Battle of Z.
In Dragon Ball Z: Supersonic Warriors 2, the rush appears as an Ultimate Attack finished by a Kaio-ken Kamehameha for Goku in his base form.
In Dragon Ball Xenoverse 2, it appears under the name Kaioken Assault as one of Goku's Super Skills which the Future Warrior (Xenoverse 2) can obtain by purchasing it from the Skill Shop in Conton City.[1]
Trivia
In Xenoverse 2, if a male Future Warrior has Male Voice Option 8 selected as their voice option, when performing this technique the Future Warrior will mispronounce the Kaio-ken as KAY-O-ken rather than the correct pronunciation, however it is actually mispronounced on purpose by the voice actor (Chris Arnott/Takahata101, voice of TeamFourStar's Nappa from the Dragon Ball Z: Abridged online parody series who previously did official voice work for the english dub of Xenoverse) for humorous effect as a in-joke reference to its mispronunciation in various dubs.[2]
Gallery
References