"Kame's Tale" is a soundtrack composed by Bruce Faulconer. It is featured in Best of Dragon Ball Z: Volume 4.
Uses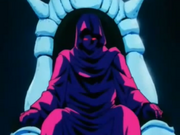 Episode 122/137, "Last Ditch Effort": when Kami reflects his flashback to when he was separated from his evil half King Piccolo, King Piccolo's first rampage on Earth, how Goku defeated King Piccolo, and how Piccolo was born.
Episode 127/142, "Borrowed Powers": while Piccolo powers up against Cell.
Episode 162, " Trunks Ascends": Plays briefly in the original Funimation dub when Vegeta strikes Perfect Cell's body while ineffective. This track is replaced with Perfect Cell's theme in the remastered dub.
Episode 217/232, "Buu is Hatched": when Goku and Majin Vegeta Headbutt each other during their battle.
After Goku turned Super Saiyan 2 against Babidi & Fat Buu
Episode 249/254, "Search for Survivors": when Dende reveals how he escaped from The Lookout when Super Buu killed Bulma, Videl, Krillin, Android 18, Marron, Yamcha, Master Roshi, Ox-King and Mr. Popo (during Dende's flashback).
Episode 262/277, "End of Earth": when South Supreme Kai battles Kid Buu (in Kibito Kai's flashback).