Directory: Techniques → Offensive techniques → Energy waves
The Laser Blast is the Battle Jacket's beam weapon fired from the chest.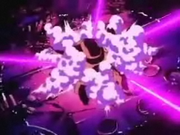 It is used twice in the movie Dragon Ball: The Path to Power. The robot's Laser Blast destroys a huge swath of the Red Ribbon Army Headquarters in its path, and nearly kills Goku. Goku manages to knock the Battle Jacket on its stomach when Staff Officer Black was detonating the Laser Blast a second time, making the robot fall onto the ground and firing the laser on itself, thus destroying the weapon but not the Battle Jacket yet.
Laser Blast was named in Dragon Ball: Origins 2.
Gallery
Ad blocker interference detected!
Wikia is a free-to-use site that makes money from advertising. We have a modified experience for viewers using ad blockers

Wikia is not accessible if you've made further modifications. Remove the custom ad blocker rule(s) and the page will load as expected.