This article is about the
real world.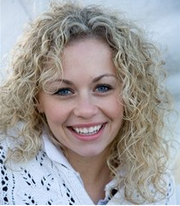 Leda Davies is an actress, voice actress, and writer. She voiced Bulma and Arale Norimaki in the Blue Water dub of Dragon Ball, as well as Bulla in Dragon Ball GT.
Some of her other roles include Shiho Munakata in Mai-HiME, Alexis "Lexi" Taylor in Necessary Action, Mai Moritaka in Hoop Days, Shizuka Nagare in Doki Doki School Hours, Meroko Yui in Full Moon o Sagashite, Ponzu in Hunter x Hunter, and Ageha in Viper's Creed.
She also co-wrote and starred in the drama There by Grace.
Ad blocker interference detected!
Wikia is a free-to-use site that makes money from advertising. We have a modified experience for viewers using ad blockers

Wikia is not accessible if you've made further modifications. Remove the custom ad blocker rule(s) and the page will load as expected.