This article is about the final level in the Frieza Saga of Budokai Tenkaichi 3. For this games special saga level see Legendary Super Saiyan (Special Saga stage) or Legendary Super Saiyan for the transformation.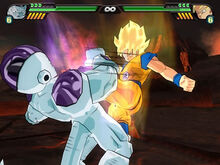 Legendary Super Saiyan is the fourth and final level of the Frieza Saga of Dragon Ball Z: Budokai Tenkaichi 3.
Plot
After Krillin is killed by Frieza, Goku goes mad and transforms into a Super Saiyan. He then manages to overpower Frieza who then goes into his 100% Power Form. After losing a lot of health, Frieza uses his ultimate technique whereas Goku counters this with his Angry Kamehameha and defeats Frieza.
Characters
Mid Goku (Base, Super Saiyan)
Final Form Frieza (Final form, 100% full power)
Kid Gohan (voice)
Krillin (mentioned)
Scouter Vegeta (mentioned)