Leon (レーオン, Rēon) is a lion Machine Mutant kept on Planet Luud.
Appearance
Leon is a giant machine mutant that resembles a lion. This robot has blue skin and a gold mane. It has gold rings around its legs.
Biography
Dragon Ball GT
Black Star Dragon Ball Saga
Main article: Black Star Dragon Ball Saga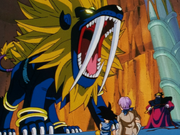 This robot is summoned by Cardinal Mutchy Mutchy to attack Goku and Trunks, but it is quickly destroyed when Goku fires a Ki Blast at the ceiling, causing it to collapse on the giant mech. The resulting explosion also destroys Cardinal Mutchy Mutchy's normal form.
Voice actors
See also
Ad blocker interference detected!
Wikia is a free-to-use site that makes money from advertising. We have a modified experience for viewers using ad blockers

Wikia is not accessible if you've made further modifications. Remove the custom ad blocker rule(s) and the page will load as expected.