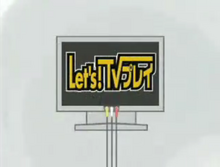 The Let's! TV Play is a series of Japan-only plug-and-play devices distributed by Bandai. They are self-contained gaming systems which hook up to a television set via audio-video cables.
Several Let's! TV Play games based on the Dragon Ball series were released between 2006 and 2008:
The Let's! TV Play: Dragon Ball games are rail shooter/first-person fighting games played with a pair of wireless devices that slip around the ends of fingers: the Dragon Band. Using the Dragon Band, the player can throw punches, ki blasts, block or brush away incoming attacks, and even do classic moves like the Kamehameha by making the appropriate hand motions.
An American device by Jakks Pacific uses a similar plug & play concept, the Dragon Ball Z TV game released in 2006. A similar control scheme to the Let's! TV Play series of games is used in the Budokai Tenkaichi games on the Nintendo Wii.