Let the Battle Begin (死ぬな悟飯! 悟空, ついに決戦場に到着だ, Shinu na Gohan! Goku - Tsui ni Kessenjo ni Touchaku da) is the thirtieth episode of the Namek Saga and the sixty-fifth overall episode in the uncut Dragon Ball Z series. The episode first aired on October 31, 1990.
Summary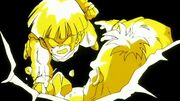 Captain Ginyu delivers the seven Dragon Balls to Frieza, but they are unable to summon the Eternal Dragon because he does not know what the code is to summon Porunga, the Namekian dragon. Frieza leaves to find the Grand Elder Guru in order to force him to reveal the code.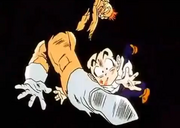 Meanwhile, Recoome is still crushing the life out of Gohan, but Goku's arrival on Namek turns the tide of the battle.
Battles
Cast
Gallery
Ad blocker interference detected!
Wikia is a free-to-use site that makes money from advertising. We have a modified experience for viewers using ad blockers

Wikia is not accessible if you've made further modifications. Remove the custom ad blocker rule(s) and the page will load as expected.