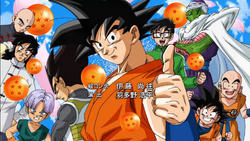 Light Pink (薄紅 Usubeni) is the third ending theme of Dragon Ball Super, playing from episode 26 to episode 36. This song is performed by LACCO TOWER.
Lyrics
Japanese Romaji Lyrics (TV size)
sayonara anata
usubeni no sora no shita watashi wa migi anata wa hidari ni
"daisuki yo anata o wasure nai"
kotoba wa dekiru mae ni kokoro de shinjau kedo
futari o fusagu hanabira no ame
hirari narihibiku merodii
semete anata ga kakureru kurai
usubeni somare somare
sayonara somare somare
English Translation Lyrics (TV size)
Farewell, my beloved!
Beneath a pale crimson sky, I turn right, while you turn left…
"I love you… I'll never for get you."
But before the words can be formed, they die in our hearts.
The rain of petals that divides us,
Is a gently floating, resounding melody.
I hope it will provide just enough light crimson,
To protect you – dyeing deeper and deeper!
Farewell – let it dye deeper and deeper!
Japanese Romaji Lyrics (TV size)
さよならあなた
薄紅の空の下 私は右 あなたは左に
「大好きよ あなたを忘れない」
言葉は 出来る前に 心で 死んじゃうけど
二人を塞ぐ 花びらの雨
ひらり 鳴り響く音(メロディー)
せめてあなたが 隠れるくらい
薄紅染まれ染まれ
さよなら染まれ染まれ
Gallery