This article is about the
real world.
Linda Chambers-Young is an American voice actress working with FUNimation Entertainment. She is the mother of John Burgmeier, who also does voices for Dragon Ball Z.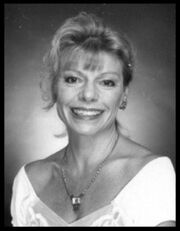 She most notably voices the roles of Frieza and Fortuneteller Baba in the FUNimation dub of Dragon Ball Z. She also provided the voice of Fasha in the TV special Dragon Ball Z: Bardock - The Father of Goku and Arale in Dragon Ball and Mystical Adventure. Her voice was heard as Frieza in the first episode of Dragon Ball Z Kai and in the video game Dragon Ball Z: Ultimate Tenkaichi, but from Frieza's second appearance in Kai and video games from Dragon Ball Z: Tenkaichi Tag Team onward she was replaced by Chris Ayres.
She is also known for voicing Genkai in YuYu Hakusho.
Ad blocker interference detected!
Wikia is a free-to-use site that makes money from advertising. We have a modified experience for viewers using ad blockers

Wikia is not accessible if you've made further modifications. Remove the custom ad blocker rule(s) and the page will load as expected.