This is a list of inconsistencies in the subject matter of the Dragon Ball manga, the anime series Dragon Ball, Dragon Ball Z, and Dragon Ball GT.
Dragon Ball
Dragon Ball Z
Saiyan Saga
Namek-Frieza Sagas
During the scene in the episode "The Ruthless Frieza" where the Capsule Corporation spaceship built for Goku by Dr. Brief takes liftoff, the Capsule Corporation logo on its outer surface reads "CPSULE CORP.", rather than "CAPSULE CORP." Unlike some animation errors, this was not corrected in Dragon Ball Kai.
While fighting, Recoome gets most of his teeth knocked out, but a few scenes later he has most of his teeth back.
In a scene during his face off with Frieza, Vegeta is shown wearing his old armor which he wore at the beginning of the saga, despite the fact that he had switched to a new armor just before his face off with Frieza.
The length of Frieza's tail after being partially severed by Krillin's Destructo Disk is never consistent. In select sequences that follow, Frieza's tail is sometimes shown completely intact.

Androids-Cell Sagas
In Timeline 3, Frieza and King Cold invade Earth and are defeated by Goku. It should be noted, however, that Cell mentioned to Piccolo that Dr. Gero's Super Computer would have copied Future Trunks' data had it not been for the fact that they already have more than enough Saiyan data to infuse Cell with. This would imply that the supercomputer observed Trunks as a baby or teenager. However, the anime flashback shows when Future Trunks killed Frieza and King Cold in the main timeline. Also, in the same discussion, Cell mentions that he was barely able to collect genetic information from Frieza before "He met his end at the hands of Trunks."
There are a number of inconsistencies with the area surrounding Goku's house. Early in Dragon Ball Z (as well as the first Z film, Dead Zone), Goku's house lies at the foot of a forest and at the base of a mountain. This is also the surrounding area as seen at the conclusion of the episode "Goku's Alive!!", where Piccolo is standing atop this mountain, looking down on the house. In other episodes, among them "Goku's Ordeal", the house is located on a grassy plateau, with the mountain and surrounding forest absent. "Goku's Assassin", as well as several episodes that follow, shows a surrounding terrain similar to the one seen in "Goku's Ordeal", but with the inclusion of a lone tree nearby, as well as a pond situated next to the house. "Closing In" shows a completely different terrain, when an aerial view of the surrounding land shows a river along the side of the property, along with what appears to be farming fields just beyond the house. In this view there also appears to be some minor modifications done to the shape of the structure as well. It is possible Goku's family house is a capsule house and has been moved around Mount Paozu in the past.
In "Z Warriors Prepare" while Goku, Gohan and Piccolo are training, Goku is shown wearing his blue undershirt. However in another frame where he exchanges blows with Piccolo, he is shown wearing his orange shirt.
In episodes such as "Goku's Ordeal" and "A New Guardian", Chi-Chi laments over her inability to drive a vehicle. However, there are several sequences during the Saiyan Saga and Garlic Jr. Saga where Chi-Chi, accompanied by her father Ox-King, is shown driving a hovercar and an aircraft, respectively. She is also seen driving a car after her wedding in a flashback in "The Newest Super Saiyan".
When Android 18 stole her cowgirl looking uniform from a clothing store, it showed the license plate on the Androids pink van that they stole. It said 69-69. However, later on when they were being chased by the Toad Warrior bike gang, it showed their license plate again, but this time, it said BB 1223.
In the episode "Bow to the Prince", while Goku and Gohan are training in the Hyperbolic Time Chamber, Goku instructs Gohan to imagine that Cell is destroying everyone close to him, in an effort to trigger the Super Saiyan transformation inside him. Gohan dispels this method, confessing that he has never seen Cell. However, later during their stay in the Hyperbolic Time Chamber, Gohan has a nightmare where Perfect Cell kills Chi-Chi and Piccolo. Apart from the fact that Gohan has never seen Cell at this point in the series, this is even more unfounded because Cell did not achieve his perfect form until after the pair entered the Hyperbolic Time Chamber.
When Super Perfect Cell returns, he explains that he was able to regenerate because the part of his brain that allows regeneration survived his self-destruction. However, Cell's entire upper body, head included, had been vaporized by Goku in a Kamehameha blast earlier, and he regenerated from the remains of the torso. If the regeneration core was in the brain, this should have been a fatal blow.
While attacking Cell during his Beam Struggle with Gohan, Tien Shinhan states to himself that surpassing Goku had been his goal ever since becoming a martial artist, and that if it were not for Goku he would not be as strong as he was. However, it is known that he was a martial artist under the Crane Hermit long before he met Goku.
Majin Buu Sagas
Dragon Ball GT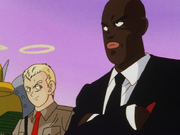 Only in the FUNimation dub of "A Devastating Wish", when Goku and Uub emerge from their sparring session and collapse, Dende asks Mr. Popo to retrieve a first aid kit. This should not be necessary, as Dende has healing abilities at his disposal.
During the Super 17 Saga, deceased villains in Hell and on Earth are shown without halos, despite being crowned with them in filler episodes of Dragon Ball Z, but they have ones while waiting in front of the Check-In Station.
In the FUNimation dub of "Until We Meet Again", Krillin claims that Turtle is nowhere near 1000 years old, however Turtle celebrated his 1000th birthday in the filler episode "Krillin's Proposal".
References
External links