"Power levels" redirects here. For the concept of power levels, see Power level.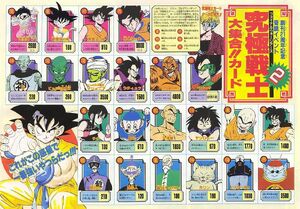 This is a list of known and official power levels in the Dragon Ball universe. All of the levels on this list are taken from the manga, anime, movies, movie pamphlets (most of which were taken from early parts of Dragon Ball Carddass), Daizenshuu guides, games, and stated mathematical calculations.
After the Frieza Saga, the only power level stated by a scouter in the series is that of Future Trunks. In the 2000s, V-Jump revealed the official power levels of Cooler in his Final Form, Broly in his Legendary Super Saiyan form, and Gogeta in his Super Saiyan form. The video game Dragon Ball Z: Scouter Battle Taikan Kamehameha has revealed the power levels of several characters who are enemies in the game.
Some games, like Dragon Ball Z Collectible Card Game, later parts of Dragon Ball Carddass, Dragon Ball Z: The Anime Adventure Game, Dragon Ball Z: Attack of the Saiyans, and Dragon Ball Z: Battle of Z, do not use anything from the original series about power levels and have their own scale.
Power level tables
Pre-Dragon Ball
| | | | | | | | | |
| --- | --- | --- | --- | --- | --- | --- | --- | --- |
| Saga | Character | How it is obtained | Description of event | Power level | Manga source | Original anime source | Edited anime source | Other source |
| 5 Million Before Age | | | | | | | | |
| | Supreme Kai | Supreme Kai: "Each of whom could have felled Frieza with one blow" | Kid Buu attacks the Sacred World of the Kais | 120,000,000 (at least) | Vol. 21, #251 | | | |
| | Northern Supreme Kai | Supreme Kai: "Each of whom could have felled Frieza with one blow" | Kid Buu attacks the Sacred World of the Kais | 120,000,000 (at least) | Vol. 21, #251 | | | |
| | Grand Supreme Kai | Supreme Kai: "Each of whom could have felled Frieza with one blow" | Kid Buu attacks the Sacred World of the Kais | 120,000,000 (at least) | Vol. 21, #251 | | | |
| | Western Supreme Kai | Supreme Kai: "Each of whom could have felled Frieza with one blow" | Kid Buu attacks the Sacred World of the Kais | 120,000,000 (at least) | Vol. 21, #251 | | | |
| | Southern Supreme Kai | Supreme Kai: "Each of whom could have felled Frieza with one blow" | Kid Buu attacks the Sacred World of the Kais | 120,000,000 (at least) | Vol. 21, #251 | | | |
| Bardock - The Father of Goku | | | | | | | | |
| | Bardock | Scouter | After healing | Nearly 10,000 | | TV Special | | |
| | Bardock | | | 9,000 | | | | Dragon Ball Carddass |
| | Tora | | | 5,000 | | | | Dragon Ball Carddass |
| | Shugesh | | | 4,200 | | | | Dragon Ball Carddass |
| | Borgos | | | 4,000 | | | | Dragon Ball Carddass |
| | Fasha | | | 2,000 | | | | Dragon Ball Carddass |
| | Toolo | | | 1,100 | | | | Dragon Ball Carddass |
| | Meatians | | | 300 | | | | Dragon Ball Carddass |
| | Young Nappa | | | 3,200 | | | | Dragon Ball Carddass |
| | Young Vegeta | | | 2,900 | | | | Dragon Ball Carddass |
| | King Vegeta | | | 15,000 | | | | Dragon Ball Carddass |
| | Frieza Soldiers | | | 10,000 | | | | Dragon Ball Carddass |
| | Frieza's soldiers | Scouter | | 1,300 | | | | Scouter Battle Taikan Kamehameha |
| Broly - The Legendary Super Saiyan | | | | | | | | |
| | Broly | Saiyan: "Paragus' son was born with a power level of 10,000!" | In birth chamber | 10,000 | | Movie | | |
| | Goku | Saiyan: "Makes Bardock's son look like a joke... what is he, a 2?" | In birth chamber | 2 | | Movie | | |
Saga
Character
How it is obtained
Description of event
Power level
Manga source
Original anime source
Edited anime source
Other source
Pilaf Saga
Goku
Stated in section "The Evolution of Goku's Power Level"
First appearance in Dragon Ball
10
Daizenshuu 7
Goku
Stated in section "The Evolution of Goku's Power Level"
Great Ape transformation at Pilaf's Castle
100
Daizenshuu 7
Emperor Pilaf
40
Movie Pamphlet
Shu
20
Movie Pamphlet
Mai
20
Movie Pamphlet
Oolong
10
Movie Pamphlet
Puar
10
Movie Pamphlet
Tournament Saga
Nam
100
Movie Pamphlet
Ranfan
80
Movie Pamphlet
Giran
100
Movie Pamphlet
Bacterian
110
Movie Pamphlet
Red Ribbon Army Saga
Mercenary Tao
240
Movie Pamphlet
Korin
190
Weekly Jump #31, 1991
Commander Red
100
Movie Pamphlet
Staff Officer Black
150
Movie Pamphlet
General Blue
180
Movie Pamphlet
Colonel Silver
200
Movie Pamphlet
Colonel Violet
150
Movie Pamphlet
Major Metallitron
150
Movie Pamphlet
Battle Jacket
Scouter
1,000-1,200
Scouter Battle Taikan Kamehameha
Tien Shinhan Saga
Goku
Stated in section "The Evolution of Goku's Power Level"
At the 22nd Tournament
180
Weekly Jump #31, 1991 & Daizenshuu 7
Tien Shinhan
Stated in section "The Evolution of Goku's Power Level"
At the 22nd Tournament
180
Daizenshuu 7
Master Roshi
Stated in section "The Evolution of Goku's Power Level"
At the 22nd Tournament
139
Daizenshuu 7
Master Shen
Stated in section "The Evolution of Goku's Power Level"
At the 22nd Tournament
120
Weekly Jump #31, 1991 & Daizenshuu 7
King Piccolo Saga
Piano
180
Movie Pamphlet
Tambourine
340
Movie Pamphlet
Drum
280
Movie Pamphlet
King Piccolo
Stated in section "The Evolution of Goku's Power Level"
After restoring his youth with the Dragon Balls
260
Weekly Jump #31, 1991 & Daizenshuu 7
King Piccolo
Youth restored
500
Movie Pamphlet
Goku
Stated in section "The Evolution of Goku's Power Level"
After drinking the Ultra Divine Water
260
Weekly Jump #31, 1991 & Daizenshuu 7
Master Roshi
180
Weekly Jump #31, 1991
Kami
When meeting Goku
220
Weekly Jump #31, 1991
Piccolo Jr. Saga
Goku
Using Super Kamehameha against Piccolo
910
Weekly Jump #31, 1991
Cyborg Tao
Appearance at the 23rd World Tournament as a Cyborg
210
Weekly Jump #31, 1991
Chi-Chi
Fighting Goku at the 23rd World Tournament
130
Weekly Jump #31, 1991
Tien Shinhan
218
Goku Hishōden
Piccolo
325
Goku Hishōden
Saga
Character
How it is obtained
Description of event
Power level
Manga source
Original anime source
Edited anime source
Other source
Dragon Ball Z: Dead Zone
Sansho
350
Movie Pamphlet
Nicky
350
Movie Pamphlet
Ginger
350
Movie Pamphlet
Garlic Jr.
400
Movie Pamphlet and Dragon Ball Carddass
Ox-King
900
Movie Pamphlet
Vegeta Saga (battle against Raditz)
Farmer
Raditz's scouter
When retaliating against Raditz
5
Vol. 17, #195
Episode 1
Episode 1
Pumpkin
Scouter
400
Kyōshū! Saiyan
Scarface
3,000
Movie Pamphlet
Shorty
3,000
Movie Pamphlet
Raditz
Nappa: "All of these Saibamen have the same fighting power as ... as Raditz."
Raditz's power level
1,200
Vol. 18, #215
Episode 23
Episode 17
Goku Hishōden
Raditz
Stated in section "The Evolution of Goku's Power Level"
Raditz's power level
1,500
Scouter
Weekly Jump #31, 1991 & video games & Daizenshuu 7
Piccolo
Raditz's scouter
First encounter with Raditz
322
Vol. 17, #195
Episode 1
Episode 1
Gohan
Raditz's scouter
Trapped inside Raditz's space pod
710
Vol. 17, #199
Episode 3
Episode 2
Goku
Raditz's scouter
Approaching to fight Raditz
334
Vol. 17, #199
Piccolo
Raditz's scouter
Approaching to fight Raditz
322
Vol. 17, #199
Piccolo
Raditz's scouter
Removes weighted clothes
408
Vol. 17, #199
Episode 2 (Dragon Ball Z Kai)
Daizenshuu 7
Goku
Raditz's scouter
Removes weighted clothes
416
Vol. 17, #199
Episode 2 (Dragon Ball Z Kai)
Daizenshuu 7
Goku
Raditz's scouter
Uses Kamehameha against Raditz
Over 924
Vol. 17, #201
Piccolo
Raditz's scouter: "...1,020, 1,030... 1,330!"
First use of Special Beam Cannon
1,330
Vol. 17, #201
Gohan
Raditz's scouter
Breaks free and charges Raditz
1,307
Vol. 17, #203
Episode 3 (Dragon Ball Z Kai)
Daizenshuu 7
Gohan
Raditz's scouter
After attacking Raditz and regressing to normal
1
Vol. 17, #203
Daizenshuu 7
Piccolo
Raditz's scouter: "1,440! No! If that hits, we're finished!"
Second use of Special Beam Cannon
1,440
Episode 5
Vegeta Saga (trainings)
Master Roshi
Bulma's modified scouter
Scanned by Bulma at Kame House
139
Vol. 18, #209
Episode 8
Krillin
Bulma's modified scouter
Scanned by Bulma at Kame House
206
Vol. 18, #209
Episode 8
Daizenshuu 7
Turtle
Bulma's modified scouter
Scanned by Bulma at Kame House
.001
Episode 8
Tien Shinhan
Bulma's modified scouter
Scanned by Bulma from Kame House
250
Vol. 18, #209
Yamcha
Bulma's modified scouter
Scanned by Bulma from Kame House
177
Vol. 18, #209
Piccolo
Bulma's modified scouter
Scanned by Bulma from Kame House
329
Vol. 18, #209
Mr. Popo
Presumably while the humans train on the Lookout
1,030
Weekly Jump #31, 1991
King Kai
King Kai's power level
3,500
Weekly Jump #31, 1991
Bubbles
1,000
Movie Pamphlet
Gregory
1,100
Movie Pamphlet
Vegeta Saga (battles against Nappa and Vegeta)
Gohan
Nappa's scouter. However, it is not stated in the source that this level is actually Gohan's, or if it is Piccolo's or Krillin's.
Confronting Vegeta and Nappa
981
Vol. 18, #214
Gohan
Nappa's scouter: "The kid's at a 1,000,"
Confronting Vegeta and Nappa
1,000
Episode 22
Piccolo
Nappa's scouter. However, it is not stated in the source that this level is actually Piccolo's, or if it is Gohan's or Krillin's.
Confronting Vegeta and Nappa
1,220
Vol. 18, #214
Piccolo
Nappa's scouter: "the Namek's at 1,400,"
Confronting Vegeta and Nappa
1,400
Episode 22
Krillin
Nappa's scouter. However, it is not stated in the source that this level is actually Krillin's, or if it is Piccolo's or Gohan's.
Confronting Vegeta and Nappa
1,083
Vol. 18, #214
Krillin
Nappa's scouter: "and the midget's at 1,100."
Confronting Vegeta and Nappa
1,100
Episode 22
Saibamen
Nappa: "...his power level is 1,200!"
Scouter
Fighting against the Z Fighters
1,200
Vol. 18, #215
Episode 23
Episode 17
Video games & Daizenshuu 7
Yamcha
Stated in section "The Evolution of Goku's Power Level"
When fighting one of the Saibamen
1,480
Weekly Jump #31, 1991 & Daizenshuu 7
Tien Shinhan
Stated in section "The Evolution of Goku's Power Level"
When fighting one of the Saibamen
1,830
Weekly Jump #31, 1991 & Daizenshuu 7
Chiaotzu
Stated in section "The Evolution of Goku's Power Level"
Before fighting with Nappa
610
Weekly Jump #31, 1991 & Daizenshuu 7
Krillin
Stated in section "The Evolution of Goku's Power Level"
When fighting against Nappa
1,770
Weekly Jump #31, 1991 & Daizenshuu 7
Piccolo
Stated in section "The Evolution of Goku's Power Level"
When fighting against Nappa
3,500
Weekly Jump #31, 1991 & Daizenshuu 7
Nappa
Scouter
Nappa's power level
4,000
Weekly Jump #31, 1991 & video games & Daizenshuu 7
Nappa
7,000
Goku Hishōden
Goku
Vegeta's scouter
Approaching the battlefield
5,000
Vol. 19, #222
Episode 28
Gohan
Vegeta's scouter
Using Masenko against Nappa
Over 2,800
Vol. 19, #223
Weekly Jump #31, 1991 & Daizenshuu 7
Goku
Vegeta's scouter: "...It's over 8,000!"
Powers up to fight
Over 8,000
Vol. 19, #224
Episode 29 (Japanese dub)
Episode 21
Goku
Vegeta's scouter: "...It's over 9,000!"
Powers up to fight
Over 9,000
Episode 29 (English dub)
Episode 21
Vegeta
Scouter
Getting ready to fight Goku
18,000
Vol. 21, #249
Video games & Daizenshuu 7
Goku
8,000 (Daizenshuu 7) x 2 = 16,000
Kaio-ken x2
16,000
Goku
8,000 (Daizenshuu 7) x 3 = 24,000
Kaio-ken x3
24,000
Goku
Stated in section "The Evolution of Goku's Power Level"
(8,000 (Daizenshuu 7) x 4 = 32,000)
Kaio-ken x4
32,000
Daizenshuu 7
Great Ape
Stated by Vegeta
Before Vegeta turns into Great Ape
10 x regular Saiyan level
Vol. 20, #233
Video games
Gohan
Scouter
Great Ape
10,000
Kyōshū! Saiyan
Yajirobe
Fighting against Vegeta
970
Weekly Jump #31, 1991
Dragon Ball Z: The World's Strongest
Goku
10,000
Movie Pamphlet
Goku
10,000 (Movie Pamphlet) x 2
Kaio-ken x2
20,000
Goku
10,000 (Movie Pamphlet) x 3
Kaio-ken x3
30,000
Goku
10,000 (Movie Pamphlet) x 4
Kaio-ken x4
40,000
Piccolo
8,200
Movie Pamphlet
Gohan
6,000
Movie Pamphlet
Krillin
5,000
Movie Pamphlet
Dr. Wheelo
39,000
Movie Pamphlet
Dr. Kochin
8
Movie Pamphlet
Misokatsun
4,400
Movie Pamphlet
Kishime
7,000
Movie Pamphlet
Ebifurya
7,500
Movie Pamphlet
Bio-Men
1,000
Movie Pamphlet
Namek Saga
Control tower soldier on Planet Freeza No.79
3,000
Dragon Ball Carddass
3 Frieza's henchmen welcoming Vegeta on Planet Freeza No.79
2,500
Dragon Ball Carddass
Appule's race member on Planet Freeza No.79
3,000
Dragon Ball Carddass
Gohan
Zarbon's scouter
Powering up to fight against Banan and Sūi
Around 1,500
Vol. 21, #248
Episode 45
Krillin
Zarbon's scouter
Powering up to fight against Banan and Sūi
Around 1,500
Vol. 21, #248
Episode 45
Banan and Sūi
Stated in character description
Fighting Krillin and Gohan
Less than 1,500
Daizenshuu 7
Napple
Scouter
5,800
Gekishin Freeza
Napple
1,825
Goku Gekitōden
Appule
Scouter
6,000
Gekishin Freeza
Appule
Scouter
1,500-1,700
Super Saiya Densetsu
Frog-Face
2,900
Dragon Ball Carddass
Orlen
Scouter
4,600-5,600
Super Saiya Densetsu
Cui
Zarbon states he has about the same level Vegeta had before fighting Goku
Scouter
Stated in character description
Tries to stop Vegeta
18,000
Vol. 21, #247
Super Saiya Densetsu & Daizenshuu 7
Vegeta
Dodoria's newer modeled scouter
Powered up to fight Cui
24,000
Vol. 21, #249
Episode 45
Namekian Warriors
Dodoria's scouter
During first fight with Frieza's henchmen
1,000
Vol. 22, #253
Episode 47
Namekian Warriors
Dodoria's scouter
Stated in character description
Powered up while fighting
3,000
Vol. 22, #253
Episode 47
Dodoria
Scouter
Stated in character description
First fight with Vegeta
22,000
Gekishin Freeza & Super Saiya Densetsu & Daizenshuu 7 & Scouter Battle Taikan Kamehameha
Zarbon
Scouter
Stated in character description
First fight with Vegeta
23,000
Gekishin Freeza & Super Saiya Densetsu & Daizenshuu 7 & Scouter Battle Taikan Kamehameha
Zarbon
Scouter
Monster Form
30,000
Super Saiya Densetsu
Zarbon
Monster Form
34,000
Goku Gekitōden
Raspberry
2,400
Dragon Ball Carddass
Blueberry
2,000
Dragon Ball Carddass
Vegeta
Jeice's scouter
After defeating Dodoria and Zarbon
30,000
Episode 64
Daizenshuu 7
Gohan
Jeice's scouter
Powering up to fight against Guldo
Over 10,000
Vol. 23, #274
Gohan
Stated in section "The Evolution of Goku's Power Level"
Power unlocked by Guru
14,000
Daizenshuu 7
Krillin
Jeice's scouter
Powering up to fight against Guldo
Over 10,000
Vol. 23, #274
Krillin
Stated in section "The Evolution of Goku's Power Level"
Power unlocked by Guru
13,000
Daizenshuu 7
Guldo
Scouter
19,000
Gekishin Freeza
Guldo
Scouter
During his battle with Gohan and Krillin
13,500
Super Saiya Densetsu
Guldo
11,850
Goku Gekitōden
Recoome
Scouter
71,000
Gekishin Freeza
Recoome
Scouter
During his battle with Vegeta
65,000
Super Saiya Densetsu
Recoome
52,000
Goku Gekitōden
Burter
Scouter
68,000
Gekishin Freeza
Burter
Scouter
During his battle with Goku
62,500
Super Saiya Densetsu
Burter
50,600
Goku Gekitōden
Jeice
Scouter
64,000
Gekishin Freeza
Jeice
Scouter
During his battle with Goku
64,000
Super Saiya Densetsu
Jeice
50,120
Goku Gekitōden
Gohan
Burter's scouter: "Yeah, for a second there, the kid's power went up over 20,000."
Masenko against Recoome
Over 20,000
Episode 65
Goku
Stated in section "The Evolution of Goku's Power Level"
After training with 100 G
90,000
Daizenshuu 7
Goku
Burter's scouter: "...its only 5,000..."
Goku arrives on Namek (power suppressed)
5,000
Episode 66
Dragon Ball Z: The Tree of Might
Gohan
Turles' scouter
Fighting Turles
10,000
Movie
Gohan
10,000 (Movie) x 10 = 100,000
Great Ape
100,000
Piccolo
Turles' scouter
Fighting Turles
18,000
Movie
Goku
Turles' scouter
Fighting Turles
30,000
Movie
Goku
30,000 (Movie) x 2 = 60,000
Kaio-ken
60,000
Goku
30,000 (Movie) x 10 = 300,000
Kaio-ken x10
300,000
Turles
19,000
Movie Pamphlet
Turles
After eating the fruit of the Tree of Might
Over 300,000
Movie Pamphlet
Amond
9,100
Movie Pamphlet
Daiz
8,400
Movie Pamphlet
Cacao
13,000
Movie Pamphlet
Rasin
7,600
Movie Pamphlet
Lakasei
8,000
Movie Pamphlet
Yamcha
1,900
Movie Pamphlet
Tien Shinhan
1,830
Movie Pamphlet
Chiaotzu
130
Movie Pamphlet
Chi-Chi
300
Movie Pamphlet
Bulma
12
Movie Pamphlet
Oolong
10
Movie Pamphlet
Puar
10
Movie Pamphlet
Master Roshi
350
Movie Pamphlet
King Kai
3,500
Movie Pamphlet
Dragon Ball Z: Lord Slug
Slug
Old
54,000
Dragon Ball Carddass
Slug
Young
160,000
Dragon Ball Carddass
Medamatcha
42,000
Dragon Ball Carddass
Angila
40,000
Dragon Ball Carddass
Wings
39,500
Dragon Ball Carddass
Commander Zeeun
39,000
Dragon Ball Carddass
Gyoshu and Kakuja
2,000
Captain Ginyu Saga
Goku
Estimated by Captain Ginyu after a brief fight with Goku
85,000
Captain Ginyu
Scouter
Stated by Jeice
Stated in character description
Max power level
120,000
Vol. 24, #285
Episode 70
Super Saiya Densetsu & Goku Gekitōden & Dragon Ball Z: Sagas
Goku
Captain Ginyu's scouter
(90,000 (Daizenshuu 7) x 2 = 180,000)
Kaio-ken x2 against Captain Ginyu
180,000
Vol. 24, #285
Episode 70
Namekian Warriors
Frieza's scouter
10,000
Episode 70
Nail
Frieza's scouter
Stated in character description
First fight with Frieza
42,000
Vol. 24, #286
Episode 71 (Japanese dub)
Frieza
Stated by Frieza
First form, full power
530,000
Vol. 24, #286
Episode 71 (Japanese dub)
Super Saiya Densetsu
Captain Ginyu
Jeice's scouter: "You're at 23,000 captain... and getting weaker!"
In Goku's body
23,000
Vol. 24, #288
Episode 73
Frieza Saga
Vegeta
Stated on battle power page
After battle with Recoome
250,000
V-Jump #1, 1991
Gohan
Stated on battle power page
Before battle with Frieza (calm)
200,000
V-Jump #1, 1991
Gohan
Stated by Goku to be stronger than before
After being healed by Dende
Over 200,000
Piccolo The Super-Namek
Krillin
Stated on battle power page
Before battle with Frieza
75,000
V-Jump #1, 1991
Krillin
Stated by Goku to be stronger than before
After being healed by Dende
Over 75,000
Piccolo The Super-Namek
Dende
Party Stats
10
Super Saiya Densetsu
Ginyu
While in Bulma's body
15
Dragon Ball Carddass
Frieza
Frieza: "...is over 1 million!"
Second form
Over 1,000,000
Vol. 25, #296
Episode 78
Episode 64
Piccolo
Stated in character description
Fused with Nail
Over 1,000,000
Daizenshuu 7
Frieza
Scouter
Third form
1,550,000
Super Saiya Densetsu
Goku
Stated in the section "The Evolution of Goku's Power Level"
Fighting Frieza
3,000,000
Daizenshuu 7
Frieza
Stated by King Kai to be equal to base Goku at the beginning of their fight
Final form
3,000,000
2.5% of maximum power
Frieza
Stated in section "The Evolution of Goku's Power Level"
50% Power
60,000,000
Daizenshuu 7
Goku
3,000,000 (Daizenshuu 7) x 10 = 30,000,000
Kaio-ken x10
30,000,000
Goku
3,000,000 (Daizenshuu 7) x 20 = 60,000,000
Kaio-ken x20
60,000,000
Goku
Stated in section "The Evolution of Goku's Power Level"
Super Saiyan
150,000,000
Daizenshuu 7
Frieza
Stated in section "The Evolution of Goku's Power Level"
100% Power
120,000,000
Daizenshuu 7
Yardrat Saga (Dragon Ball Z: Sagas)
Soba
During battle with Goku
14,000,000
Dragon Ball Z: Sagas
Garlic Jr. Saga
Spice
1,000,000
Dragon Ball Z: The Anime Adventure Game
Vinegar
800,000
Dragon Ball Z: The Anime Adventure Game
Mustard
450,000
Dragon Ball Z: The Anime Adventure Game
Salt
400,000
Dragon Ball Z: The Anime Adventure Game
Garlic Jr.
1,500,000
Dragon Ball Z: The Anime Adventure Game
Trunks Saga
Frieza's Subordinates
Frieza considered them to be able of defeating the Z-Fighters who fought him on Namek of whom the weakest was Krillin
Over 75,000 at least
Vol. 28, #331
Episode 120
Future Trunks
Iru's scouter
Holding back power
5
Vol. 28, #331
Episode 120
Mecha Frieza
Frieza is stated to be even stronger than before by Malaka, the Z Fighters, and himself
Over 120,000,000
Chapter 330
Episode 119
King Cold
"somewhat inferior" to Frieza
Less than 120,000,000
Daizenshuu 7
King Cold
Stated by Piccolo and Tien as "someone even stronger than Frieza"
Over 120,000,000
Chapter 330
King Cold
"Officially, King Cold's strength is greater than Frieza or Cooler's"
Over 470,000,000
Dragon Ball Z: Budokai Tenkaichi 3
Dragon Ball Z: Cooler's Revenge
Gohan
Dore's scouter
Dore holding Gohan's tail
50
Movie
Salza
170,000
Weekly Jump #25, 1991
Dore
185,000
Weekly Jump #25, 1991
Neiz
163,000
Weekly Jump #25, 1991
Cooler
Stated by Cooler that Frieza had the edge in power
Base
Less than 120,000,000
Dragon Ball Z: Cooler's Revenge (English dub)
Cooler
Final Form
470,000,000
V-Jump, 2004
Androids Saga
Android 16
Scouter
13,604,574,010
Dragon Ball Z: Dokkan Battle
Broly - The Legendary Super Saiyan
Broly
Scouter
Legendary Super Saiyan
1,400,000,000
V-Jump, 2004 & Scouter Battle Taikan Kamehameha
Plan to Eradicate the Super Saiyans
Hatchiyack
Stated by Goku
Over 1,400,000,000
OVA
Cell Games Saga
Cell Jr.
Scouter
46,655,274
Scouter Battle Taikan Kamehameha
Cell
Scouter
Perfect form
900,000,000
Scouter Battle Taikan Kamehameha
Babidi Saga
Pui Pui
Stated by Dabura to be weaker than Yakon
Less than 800 kili
Episode 223
Yakon
Stated by Dabura
800 kili
Episode 223
Goku
Power Meter
Super Saiyan
3,000 kili
Episode 223
Dabura
Stated by Dabura
Over 4,000 kili
Filler
Majin Buu Saga
Majin Buu
Scouter
1,000,000,000
Scouter Battle Taikan Kamehameha
Kid Buu
Scouter
1,150,000,000
Scouter Battle Taikan Kamehameha
Dragon Ball Z: Fusion Reborn
Super Gogeta
Super Saiyan
2,500,000,000
V-Jump, 2004
Dragon Ball: Yo! Son Goku and His Friends Return!!
Abo and Kado
Stated to be as strong as Frieza by Tarble
Around 530,000
Dragon Ball Z: Shin Budokai
Krillin
Stated by Frieza to be stronger than when he last fought him on Namek
Unlock Potential
Over 75,000
Dragon Ball Z: Shin Budokai
Dragon Ball Z: Battle of Gods
Goku
It is stated by Beerus in the movie that Goku's base form does not have enough power to defeat Frieza at full power
Base form
Less than 120,000,000
Dragon Ball Z: Resurrection 'F'
Tagoma
Stated by Sorbet to be on par with Dodoria & Zarbon
between 20,000 - 30,000
Shisami
Stated by Sorbet to be on par with Dodoria & Zarbon
between 20,000 - 30,000
Frieza
Before training for 4 months
First Form
530,000
Description of event
Power level
Manga source
Original anime source
Edited anime source
Other source
Black Star Dragon Ball Saga
Machine Mutants
Scouter
1,500-1,800
Scouter Battle Taikan Kamehameha
Super Sigma
Scouter
10,000,000
Scouter Battle Taikan Kamehameha
General Rilldo
Scouter
Meta-Rilldo
1,200,000,000
Scouter Battle Taikan Kamehameha
Baby Saga
Baby Vegeta
Scouter
Super Baby 2
1,300,000,000
Scouter Battle Taikan Kamehameha
Goku
10x Super Saiyan
Super Saiyan 4
1,500,000,000
Scouter Battle Taikan Kamehameha
Baby Vegeta
Scouter
Golden Great Ape
1,580,000,000
Scouter Battle Taikan Kamehameha
Super 17 Saga
Nappa
Scouter
4,800
Scouter Battle Taikan Kamehameha
Dodoria
Scouter
26,399
Scouter Battle Taikan Kamehameha
Zarbon
Scouter
Elegant Form
27,599
Scouter Battle Taikan Kamehameha
Frieza
Scouter
Final form
143,994,141
Scouter Battle Taikan Kamehameha
Cell
Scouter
Perfect form
1,079,956,055
Scouter Battle Taikan Kamehameha
Super 17
Scouter
1,500,000,000
Scouter Battle Taikan Kamehameha
Shadow Dragon Saga
Omega Shenron
Scouter
1,900,000,000
Scouter Battle Taikan Kamehameha
Gallery
External links