This is a list of antagonists in Dragon Ball films, including Dragon Ball, Dragon Ball Z and Dragon Ball GT OVA's and TV specials.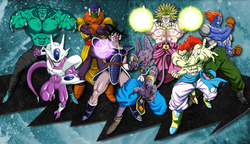 Dragon Ball Films
King Gurumes - The main antagonist of Curse of the Blood Rubies. He is the King of the Land of Gurumes. He mutated into an obese horror with a virtually unsatisfiable appetite upon discovering the Blood Rubies and sought to gather the Dragon Balls so that Shenron could wish his hunger away.
Bongo - Leader of King Gurumes army.
Pasta - One of King Gurumes top henchmen.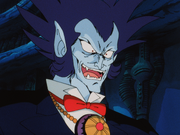 Lucifer - The main antagonist of Sleeping Princess in Devil's Castle. A demon with vampirish tendencies, he plotted to use the Sleeping Princess jewel and the Devil Castle Cannon to destroy the Sun so to throw the world into eternal darkness and rule an Earth full of monsters.
Igor - Lucifer's Butler.
Ghastel - The leader of Lucifer's Ogre Demons.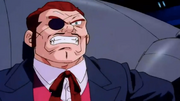 Dragon Ball Z Films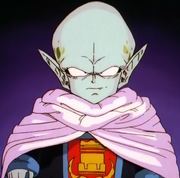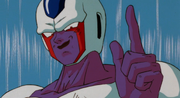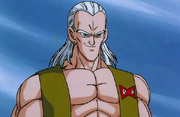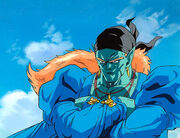 Broly - The main antagonist of Dragon Ball Z: Broly - Second Coming. Following his previous defeat to Goku, he takes a Space Pod which eventually crash lands on Earth. He falls into a coma for seven years as nature expands around him until he was eventually awoken by Goten's crying and continues his rampage.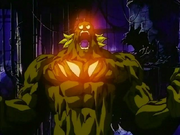 Bio-Broly - The main antagonist of Dragon Ball Z: Bio-Broly. A clone of the original Broly, made by Lord Jaguar and Maloja. He becomes deformed when his body is drenched in culture fluid which becomes extremely corrosive upon becoming exposed to air.
Lord Jaguar - Mr. Satan's enemy who blackmails him into coming to his castle to fight his army of Bio-Warriors. He is the one who has Broly cloned.
Maloja - An idiotic shaman who was thrown out of his village. He gathers some of Broly's blood and takes it to Lord Jaguar so he could clone Broly.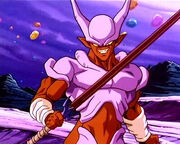 Janemba - The main antagonist of Dragon Ball Z: Fusion Reborn. He is formed when a tank containing evil souls explodes, transforming a teenage ogre into the fat, yellow demon named Janemba. He eventually transforms into a smaller, more muscular, more dangerous, humanoid creature.
The Dictator - A military dictator who along with his army escapes from Hell when the barrier between realms is broken down.
Hirudegarn - The main antagonist of Dragon Ball Z: Wrath of the Dragon. Hirudegarn is a gigantic monster who was chopped in half by a wizard and sealed inside Tapion and Minotia, who were then sealed away in music boxes and sent to the far ends of the universe.
Hoi - An evil alien who has recovered the box containing Minotia. He travels to Earth to the other box containing Tapion in order to free Hirudegarn.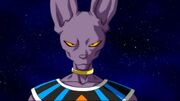 Beerus - The main antagonist of Dragon Ball Z: Battle of Gods. He is the God of Destruction awoken after a 39 year long slumber and is reminded of a dream of a warrior known as Super Saiyan God. He travels to King Kai's planet and later Earth to find the Saiyan of prophecy and confront him in battle.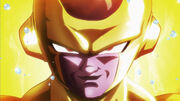 OVA, TV film and 4-D attractions
Frieza -The main antagonist of Dragon Ball Z: Bardock - The Father of Goku. He is the ruler of the Galactic Frieza Army and begins to have misgivings on the Saiyan's and their rapid growth in strength.
Zarbon - Frieza's right-hand man, he suggests Frieza to annihilate the Saiyan race in order to avoid future repercussions.
Dodoria - Frieza's other right-hand man, who Frieza sends to kill Bardock and his squad.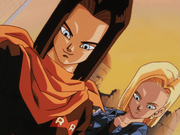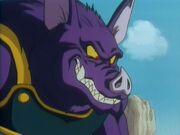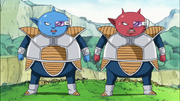 Chilled - The main antagonist of Dragon Ball: Episode of Bardock. A Space Pirate and an ancestor of Frieza's. He sends two of his underlings to Planet Plant to conquer it only for them to be killed by Bardock causing him to head there himself.
Toobi - The smaller of the two soldiers sent to invade Planet Plant.
Cabira - The larger of the two soldiers sent to invade Planet Plant.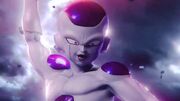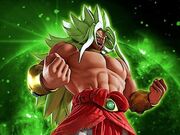 Gallery
See also