There are currently a total of 3 Lucifer collectibles that have been released by numerous companies to date. A gallery and the attached information appends to the official releases and genuine specifics in regards to the additional merchandise pertaining to each release.
AB Groupe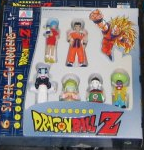 "Super Guerriers" Coffret 26
Release date: 1996
The first Lucifer model was produced as a miniature collectible by French company AB Groupe in 1996 (dated 1989). The figurines were packaged six in a set and stood at a very small size, at about 2 inches in height. The packaging read as Dragon Ball Z "Super Guerriers" and this specific set was Coffret Number 26 (Series 26). Lucifer stood firm with his elegant ballroom-dancing style clothing intact and his staff-like cane being held behind him in a wonderfully graceful positioning. This figurine was not re-released as a part of the Irwin Toy line quite a few years later although numerous other characters from the Super Guerriers lineup were among the re-releases. Others included in this set were Ran Ran, Android 15, Yamcha, Chiaotzu, and Bulma holding baby Trunks.
"Super Guerriers" Figure Case
Release date: 1996
Lucifer's original model was re-released in this bundle by AB. The figurines were packaged in a large bundle as a box set with randomized "Super Guerriers" in the series and stood at a very small size, at about 2 inches in height. Unlike many of the other figurines that were also released by AB Groupe, this miniature Lucifer was never re-released by Irwin Toy in its initial "The Saga Continues" series. Among the mini-figures that came alongside this Lucifer were equally rare figurines of Chiaotzu, Mercenary Tao, Salza, Chi-Chi, Kibito Kai, Yamcha, Super Saiyan Gohan (Great Saiyaman outfit), Bulma holding Baby Trunks, Android 15, Ran Ran, and Kid Gohan, whom were also never re-released by Irwin Toy.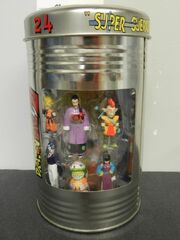 Super Guerriers Tirelire tin set
Release date: 1996
Also released by AB Groupe was a very rare spherical tin set that included a slew of characters circulating around the tin's exterior layering. These figurines are on scale with the other Super Guerriers miniatures also released by AB Groupe. A Lucifer miniature collectible was included in this set along with some other extremely rare characters. This is likely one of the hardest pieces to come by in terms of a complete collectible set. Some others included in this gift set are Super Saiyan Goten, Mercenary Tao, Chi-Chi, Ran Ran, and Minotia.
Gallery
Ad blocker interference detected!
Wikia is a free-to-use site that makes money from advertising. We have a modified experience for viewers using ad blockers

Wikia is not accessible if you've made further modifications. Remove the custom ad blocker rule(s) and the page will load as expected.