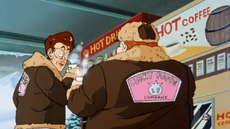 Lucky Foods is a company that delivers various foods.
One of the vans from this company is hijacked by the Red Ribbon Androids and is presumably ditched once they arrive at Goku's house at 439 East District.
In the episode The Reunion, one can see the licence plate: 69 69.
Ad blocker interference detected!
Wikia is a free-to-use site that makes money from advertising. We have a modified experience for viewers using ad blockers

Wikia is not accessible if you've made further modifications. Remove the custom ad blocker rule(s) and the page will load as expected.