This article is about the
real world.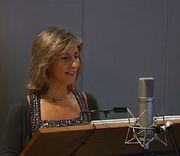 Mònica Padrós is a Spanish voice actress.
Biography
She voiced Kid Goku in Dragon Ball and Dragon Ball GT, starting from the 27th Dragon Ball episode, as the voice of Kid Goku was Maria Moscardó in the first 26 episodes. However, she also appears in these 26 episodes, dubbing the Pilaf Gang member Mai.
She also has dubbed in other anime series, being Miss Monday in One Piece and Yuka in InuYasha.