This article is about the
real world.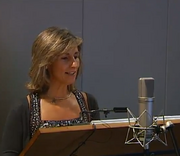 Mònica Padrós is a Catalan voice actress.
Biography
She voiced Kid Goku in Dragon Ball and Dragon Ball GT, starting from the 27th Dragon Ball episode, as the voice of Kid Goku was Maria Moscardó in the first 26 episodes. However, she also appears in these 26 episodes, dubbing the Pilaf Gang member Mai.
She also has dubbed in other anime series, being Miss Monday in One Piece and Yuka in InuYasha.
Ad blocker interference detected!
Wikia is a free-to-use site that makes money from advertising. We have a modified experience for viewers using ad blockers

Wikia is not accessible if you've made further modifications. Remove the custom ad blocker rule(s) and the page will load as expected.