This article is about the character portrayed in live-action by Eriko Tamura. For the original character, see Mai.
"I followed Muten Roshi as directed. He is training the boy, Son Goku. I could disrupt them."
— Dragonball Evolution
Mai (マイ) is a character in the 2009 film Dragonball Evolution. She is an adaptation of Mai, one of Emperor Pilaf's esteemed servants in Akira Toriyama's Dragon Ball franchise, and is portrayed by Eriko Tamura.
Overview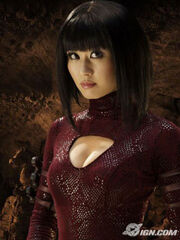 In Dragonball Evolution, rather than being one of Pilaf's servants, Mai is the personal servant and assistant of Lord Piccolo, and assists him in taking the Dragon Balls in order for Piccolo to conquer the universe.
Actor's insight
"In Dragonball, I was thrilled to be cast in this role, especially since they were looking for an actor of any ethnicity to portray this strong character. This was my first studio film in the U.S. and I played a villain for the first time in my career! Mai, the character I play, is a killer. I also got to do a lot of wire action scenes. That was so much fun! Filming Dragonball definitely brought new challenges and I loved it."[1]
References