Maji=Kayo (マジ=カーヨ Maji=Kāyo) is a warrior from Universe 3 and a member of Team Universe 3.
Appearance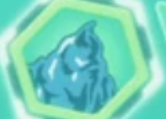 In Maji=Kayo's formless state, he simply appears a blue slime.
Personality
Biography
Dragon Ball Super
Universal Survival Saga
Main article: Universe Survival Saga Maji=Kayo is called upon by Mosco, Ea, and Campari to compete in the Tournament of Power. 
Power
Maji=Kayo was modified in preparation for the Tournament of Power.
Techniques and Abilities
Voice actors
Battles
Trivia
The name pun for this character seems to be a play on the Japanese word "Majikayo" (マジかよ(?)) which is a slang expression that means "seriously(?)/really(?)".
Gallery
References