Makaioshin
Talk

27
4,914pages on
this wiki
Makaioshin
Homeworld
Demon Realm
Average Height
Unknown
Diet
Unknown
Sapience Level
Sapient
A Makaioshin (魔界王神; lit. "Gods of the Kings of the Demon Realm") is a being who governs evil in the Demon Realm.[1]
The term Makaioshin was first introduced in the second Dragon Ball: Super Exciting Guide, which was released in 2009 (thirteen years after the end of Dragon Ball Z in Japan). The Makaioshin are in a sense the opposites of Kaioshin, but are weaker than Kaioshin.[1] They live in the Demon Realm, which is located at the very tip of the universe, and rule over the demons and Makaio there.
Possible Makaioshins
Edit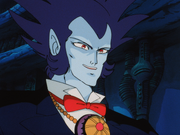 It is possible that Lucifer (main antagonist of Sleeping Princess in Devil's Castle) is in fact a Makaioshin, as he is both a demonic deity and a Demon King, which is what Makaioshins are. Also, it is known that Lucifer is at least five thousand years old, like the Eastern Kaioshin (Shin-jin live roughly 75,000 years).
Dabura (the top minion of the evil wizard Babidi) and the filler character Shula (who lives in the Demon Realm) might also be Makaioshins, as both are stated to be "King of the Demon Realm", which is what Makaioshins are. Also, Daizenshuu 7 lists both Dabura and Shula as being of the Demon Realm race.
List of potential Makaioshin
References
Edit