This article is about the
real world.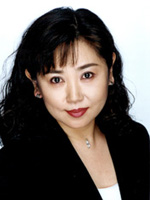 Mami Koyama is a Japanese voice actress. She voiced Raven, Launch, Arale Norimaki, and Lemlia in Dragon Ball Z. She was once married to Tōru Furuya (Japanese voice actor for Yamcha and Sourman).
She is also known for voicing Pinako Rockbell from Fullmetal Alchemist: Brotherhood, and Eva Heinemann from Monster.
Ad blocker interference detected!
Wikia is a free-to-use site that makes money from advertising. We have a modified experience for viewers using ad blockers

Wikia is not accessible if you've made further modifications. Remove the custom ad blocker rule(s) and the page will load as expected.