This article is about the
real world.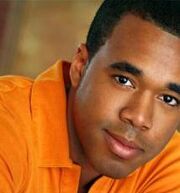 Markus Lloyd (born May 12, 1978 in Beaumont, Texas) is an American actor and voice actor. He voiced Blueberry in Dragon Ball Z and Future Warrior in both Xenoverse games.
Some of his other roles include David in The Galaxy Railways, Joseph in SoltyRei, Roland in Borderlands 2, and Tech in Desert Punk.