Directory: Techniques → Offensive techniques → Energy waves
Maximum Flasher (マキシマムフラッシャー) is an energy wave technique used by Vegeta in his Super Saiyan and 2nd Grade Super Saiyan forms.
Overview
Vegeta draws his right hand back to his right side and charges a yellow energy sphere. Then, he brings his hand forward and fires the energy sphere in the form of an energy wave at the opponent, inflicting a great amount of damage.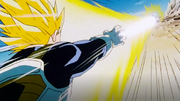 Vegeta uses this attack in an attempt to destroy Super Perfect Cell after Cell kills Future Trunks with a Full Power Death Beam. In a fit of rage over the death of his son, Vegeta transforms into his Super Saiyan form and attacks Cell with the Maximum Flasher. Vegeta follows up by releasing a powerful barrage of energy blasts against the Bio-Android, creating a huge cloud of smoke. However, Cell emerges from the blasts completely unharmed and knocks Vegeta down to the ground, nearly killing him.
The attack is also used in the OVA Dragon Ball: Plan to Eradicate the Super Saiyans, most notably in conjunction with Goku's Super Kamehameha, Future Trunks' Burning Attack, Gohan's Super Masenko, and Piccolo's Special Beam Cannon (2010 remake only) to collide with Hatchiyack's Revenger Cannon and destroy him for good.
Vegeta also unleashes this technique in his Super Saiyan God SS・Shinka form against Jiren in the Tournament of Power. However, Jiren manages to dissipate the attack with a ki-enhanced punch.
Appearances in games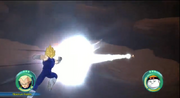 Maximum Flasher was named in the Budokai Tenkaichi series and is one of Vegeta (Mid)'s Blast 2 attacks in his Super Saiyan form. It also appears in Dragon Ball: Raging Blast, but its color is changed to white. The attack later returns in Dragon Ball: Raging Blast 2, in which Vegeta can also use it in his 2nd Grade Super Saiyan form in addition to his Super Saiyan form, replacing Big Bang Attack. This attack also appears in Dragon Ball Z: Dokkan Battle, where it appears as one of SSJ2 Vegeta's super attacks.
Trivia
In the episode "Hour of Temptation", while in his base form, Vegeta uses a similar energy wave attack against Semi-Perfect Cell.
In the OVA Dragon Ball Z: Plan to Eradicate the Saiyans, Vegeta uses a very similar attack against a bunch of Ghost Warrior henchmen sent on Earth by Dr. Raichi.
Gallery