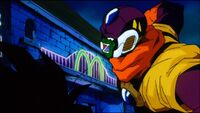 A McDonald's fast food restaurant can be seen in the movie Dragon Ball Z: Lord Slug. It is first seen in the background of Iguana Street when Wings is trying to ambush Piccolo, and later just before Lord Slug uses his Power of Darkness on Goku.
Trivia
McDonald's has had promotional toys released in 2006, as a wave of figures with each character having unique attacks. These figures were an Asian exclusive to participating McDonald's locations. The promotional Dragon Ball Z Toys series had four different figures to collect in this set: Piccolo (green bagging), Super Saiyan Goku (orange bagging), Super Saiyan Vegeta (blue bagging), and Gohan (purple bagging).

McDonald's has released another set of promotional toys in 2007, as a wave of Spin Tops with each character's torso being visible on the upper portion of each piece. These tops were a Japan exclusive to participating McDonald's locations in Japan. There are four different tops to collect in this set; Majin Buu (pink spin top), Goku (orange spin top), Super Saiyan 3 Gotenks (yellow spin top), and Super Saiyan Vegito (dark navy blue spin top).
McDonald's sponsored Dragon Ball Kai when it was airing on Japanese television in 2009. Also, special Dragon Ball Heroes cards were obtained exclusively in McDonald's fast foods in 2011-2012.
Ad blocker interference detected!
Wikia is a free-to-use site that makes money from advertising. We have a modified experience for viewers using ad blockers

Wikia is not accessible if you've made further modifications. Remove the custom ad blocker rule(s) and the page will load as expected.