Mecha Goku is a robotic duplicate of Goku.
Appearance
Mecha Goku appears a metallic silver version of Goku in his Whis Symbol Gi.
Biography
Mecha Goku was created by Bulma as a training partner for Vegeta to use.
Transformations
Super Mecha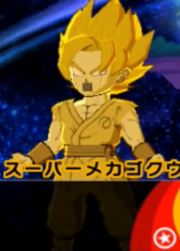 Super Mecha Goku is Mecha Goku's equivalent of Goku's Super Saiyan form, it causes his body to turn golden and his hair to rise up.
Video game appearances
Ad blocker interference detected!
Wikia is a free-to-use site that makes money from advertising. We have a modified experience for viewers using ad blockers

Wikia is not accessible if you've made further modifications. Remove the custom ad blocker rule(s) and the page will load as expected.