This article is about the
real world.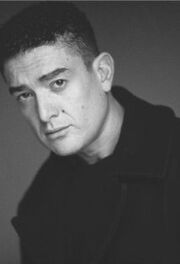 Michael Richard Dobson (born August 12, 1966) is one of the three Dobson brothers (himself, Brian, and Paul), all of whom have made themselves known prominently in the voice acting community. He currently resides in Vancouver, British Columbia, Canada.
He voiced Nappa, Nail, Spopovich, World Tournament Announcer, Supreme Kai, Kibito Kai and King Cold in the Ocean Group dub of Dragon Ball Z.
Some of his other popular roles include Leonardo in Ninja Turtles: The Next Mutation, Cobra Commander in a few G.I. Joe animated films, Blob and Pyro in X-Men: Evolution, Starscream in Transformers: Armada, Energon, and Cybertron, Mojo Jojo in Powerpuff Girls Z, Ronan the Accuser in the Fantastic Four animated series (2006), and The Ghost in Iron Man: Armored Adventures.
He is Good friends with Richard Epcar