This article is about the
real world.
Michael Charles "Mike" McFarland (born July 14, 1970, in Texas City, Texas) is an American actor, director, writer, voice actor, improv comedian, and musician. He works for ADV Films, Bang Zoom! Entertainment, FUNimation Entertainment/OkraTron 5000, and New Generation Pictures.
Biography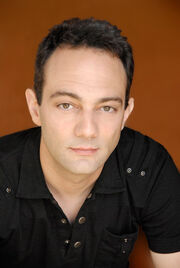 McFarland most notably voiced the characters of Master Roshi and Yajirobe in the FUNimation dub of Dragon Ball and Dragon Ball Z, and then he voiced Baby in Dragon Ball GT. Other Dragon Ball roles include Lucifer in Dragon Ball: Sleeping Princess in Devil's Castle, Tora and Toolo in Dragon Ball Z: Bardock - The Father of Goku, Dore in Dragon Ball Z: Cooler's Revenge, as well as Android 8, Mez, and Pui Pui. He also did the voice of the match announcer in Dragon Ball Z: Burst Limit, as well as Dodoria on Dragon Ball: Raging Blast.
Mike McFarland also was the ADR Director for the first two seasons of the remastered dub. He also directed two of the Dragon Ball films: Dragon Ball Z: Broly - The Legendary Super Saiyan and Dragon Ball: The Path to Power.
Some other notable roles include Goemon Ishikawa in the Lupin III franchise, George Kaminsky in the Case Closed franchise, Jean Havoc in the Fullmetal Alchemist franchise, Buggy the Clown in One Piece, Risho in Yu Yu Hakusho, and Mr. Koizumi in Paradise Kiss.