This article is about the
real world.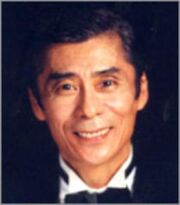 Nachi Nozawa (野沢 那智, Nozawa Nachi; January 13, 1938 - October 30, 2010) was a voice actor, actor, and theater director from Tokyo. He was affiliated with Office PAC at the time of his death. His real name was Yasutomo Nozawa (野沢 那智, Nozawa Yasutomo).
He voiced Lucifer in Dragon Ball: Sleeping Princess in Devil's Castle.