Natade Village
Talk

0
4,934pages on
this wiki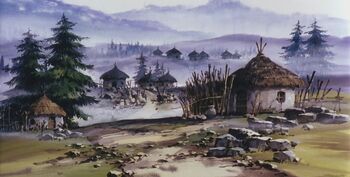 Natade Village is the village where the movie Dragon Ball Z: Broly - Second Coming takes place. It is located in the Northern Wilderness, west of East City.[1]
Seven years before the events of the movie, the village was devastated with their main water source being frozen after a mysterious meteor fell from the heavens. Shortly thereafter, a "monster" plagued the village. Maloja, the Village Priest (or, as the village chief Zalador called him, the "Village Idiot"), interpreted this as a sign of the spirits being angry and then states that in order to appease them, a yearly bout of human sacrifice to the Monster is required. The villagers personally viewed this as insane, but since no one can come up with a better explanation, they were left with no other choice but to do what he states the spirits commanded.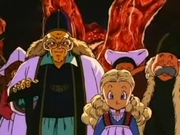 Seven years later, Goten, Trunks and Videl stop by the village in order to find the last Dragon Ball (and partially to find food) and later stumble upon Maloja's ceremony. After a confrontation almost ensues, Zalador explains what has happened and it's later revealed that a young girl named Coco was to be the present year's sacrifice. However, Goten, Trunks and Videl decide to take on the Monster, posing as the sacrifice to ambush him. After the Monster arrives and reveals itself to be a dinosaur, Goten and Trunks humiliate him.
Afterwards, the Monster is cooked and eaten by the villagers, who are now endebted to them. However, this also served as their opportunity to treat the ex-priest, Maloja, as a pariah and he is thrown out shortly thereafter. Unfortunately, shortly before the dinosaur revealed itself and met its fate, Broly was awoken by Goten's cries and resumes his rageful vendetta, attacking the village.
Video Games
Edit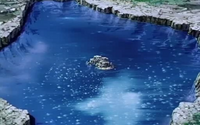 In Dragon Ball Z: The Legacy of Goku, Goku travels through an unnamed village very similar to Natade Village. This village is located south of Spinach Wastes, like Natade Village.
With its name spelled Nataday Village, it is the final area visited by Goten and Trunks during their search for the Dragon Balls in Dragon Ball Z: Buu's Fury. They defeat Broly on the Volcano north of the Northern Wilderness in exchange for Maloja's Four-Star Dragon Ball (in anime filler, this Dragon Ball is found by Bulma and the others on a small island in the middle of a lake).[2]
Notable Residents
Edit
References
Edit